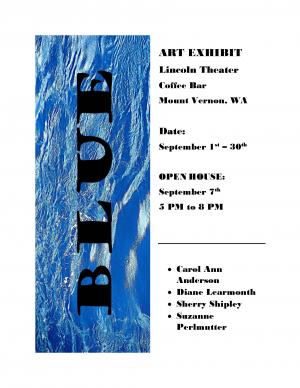 Carol Ann Anderson Mixed Medium
Colorful, unique and functional, that is what I want my art to be. I love fiber, rocks, raw materials, nature and travel. These are the tools I use to make my art. From these evolve Artfully Ann's unique art. I come from Colorado where nature is a strong influence. My family too influenced my artistic views. I have traveled extensively and lived in several countries. Every day I draw from these life experiences to help develop new ideas and philosophies. I look for the new styles, materials and new tools that have just arrived on the market. I am an innovator. I keep my mind open to everything, becoming a sponge to develop something colorful, unique and functional. I only hope that you will see some treasure you like that I have discovered and can enjoy the item as much as I do. They are all my children.
Diane S. Learmonth, Fiber Artist/Rugged Art
Fiber is a wonderful thing: wool, cotton, yarns, linen, silk – I love to work with all of it. I love the feel of wool as I pull it through backing for a hooked piece or yarn sliding through my fingers as I make a wire/wool wrapped beaded necklace or roving, silk and various threads as I layer them for a felted piece.I've been working with fiber since I was a child: knitting, crocheting, later making my own clothing in high school, quilting in my middle years and then, in 1998, I discovered rug hooking. I've been hooking rugs, pictures, purses and various pieces ever since. I am a McGown Certified Teacher; I've taught rug hooking throughout the country and Canada and have had many of my pieces published in various books. My study of Georgia O'Keeffe's and Alice Neal's works led me to teach several classes. I also love to teach faces, animals and contemporary rug hooking. The Pacific Northwest inspires me in many ways: I walk beaches almost every day gathering beach glass, beach pottery, stones, sticks and whatever else catches my eye. You'll find these objects in many of my works. I hope you enjoy my fiber art pieces as much as I've enjoyed making them.
Suzanne Perlmutter, Contemporary Glass Painter
I grew up in New York during the 70's when New York was the International Art Capital. My exposure at this time led me to a study of the works in glass by Luis Tiffany, and Joan Miro. I started on the path two years ago making glass paintings, or 'miniature di vitro' utilizing layers of hot glass with embedded pigments to provide an almost holographic 3-D imagery. Historically, the hot forming of glass dates to 1st century A.D. in a complex of Egyptian painting, notably representing family's in mortuary crypts. This style of portraiture in glass continued in Europe in the 19th century Europe, as The Gold Glass Era, or the series of Franchini paintings, and is best represented in the Catacombs of Paris. I enjoy working from the historical context of this art form, with the new more plastic glass available, as well as modern computerized glass kilns. Glass is a fascinating medium, in bringing an ancient art form, into the present age.
Sherry Shipley, Pen and Ink/Paints in Acrylic
Growing up in the shadow of the Cascades, the beauty of the Pacific Northwest inspired my love of nature and wildlife. Trips to the mountains have supplied a stunning and endless backdrop for my wildlife subjects which I have been painting for over 40 years. I attended the Art Institute of Seattle where I graduated with honors with a degree in Visual Communications. I went on to produce art for magazines, newspapers and television, but my background in the fine arts and my desire to paint animals called me back to doing what I have always loved. My style is colorful and visually fun to look at. The colors flow and dance across the picture to bring the image alive to tease and invite the viewer to join in the fun. My work has been seen in galleries from Seattle to New York. My wildlife art designs have sold on shirts and tote bags in Alaska, and many of the lower 48 states.