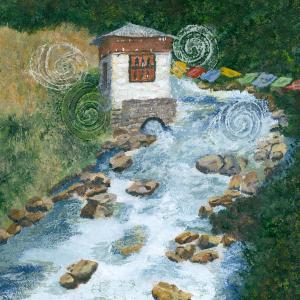 I found my way to painting after many years of appreciating the work of other artists.
The paintings in this show were inspired by images from Bhutan where I volunteered as a pediatric physical therapist for six months in 2005. During a later visit in 2012, I had the privilege of meeting Queen Jetsun Pema Wangchuck who opened an art show featuring these paintings as a fundraiser for Ability Bhutan Society, a non-profit organization for handicapped children. I am now honored that five of these paintings are on display in the palace of the King and Queen of Bhutan.
I love the concept of the wind and flowing water taking our thoughts, wishes and prayers into the universe via prayer flags and prayer wheels.