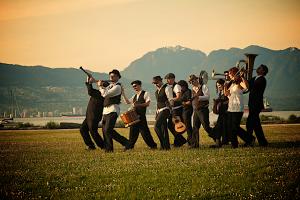 Saturday, Nov 14, 8:00 pm
 
Friends of the late Rick Epting have gathered to continue his legacy of supporting the Arts in Skagit County with this fourth annual showcase of regional musical talent. All proceeds from the show will directly benefit Skagit County arts organizations in memory of Rick Epting, who was an instrumental supporter of the Arts in Skagit County for decades.
 
The Paperboys are based in Vancouver, BC, and tour regularly throughout the Northwest, Canada, the British Isles and Germany. Their music is made up of country, folk, celtic, bluegrass and rock influences, and can be described as "celt-rock stompgrass," for short. The Paperboys, are 7 musicians, led by Tom Landa onguitars and vocals, with flute, fiddle, trumpet, sax, bass and drums. You can listen to their songs at www.paperboys.com and www.myspace.com/thepaperboys
 
The Poor Man's Jug Band, are all from Skagit County, performing authentic "olde-tyme mountain music and country-blues." Featuring Clarence Gallagher on guitars and vocals, George Jay on musical saw, Gary Sparrow on washtub bass, and Ranger Kidwell-Ross on washboard.
 
The concert will begin with three of Rick Epting's  songs, acoustically performed by three different groups of his friends.