Hyde Park on Hudson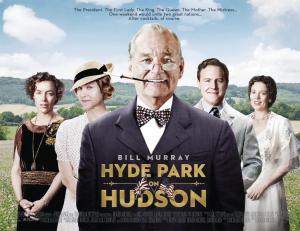 In June 1939, President Franklin Delano Roosevelt and his wife, Eleanor, host the King and Queen of England for a weekend at the Roosevelt home at Hyde Park on Hudson in upstate New York in the first-ever visit of a reigning English monarch to America. With Britain facing imminent war with Germany, the Royals are desperately looking to FDR for support. But international affairs must be juggled with the complexities of FDR's domestic establishment, as wife, mother and mistresses all conspire to make the royal weekend an unforgettable one. Seen through the eyes of Daisy, Franklin's neighbor and intimate, the weekend will produce not only a special relationship between two great nations, but, for Daisy, a deeper understanding of the mysteries of love and friendship.

Cast: Bill Murray, Laura Linney, Olivia Williams, Olivia Colman, Samuel West

Director: Roger Michell

Reviews:


Ann Hornaday
Washington Post


Murray's spot-on portrayal of a man juggling myriad pressures and demands, from petty to momentous, marks one of the film's greatest strengths.

Admission Prices*:

General: $10.00
Seniors, Students and Active Military: $9.00
Members: $8.00
Children 12 and under: $7.00
Bargain Matinee Prices (all shows before 6:00pm)
General: $8.00
Members: $6.00
Children 12 and under: $5.00
Your membership with the Lincoln Theatre saves you $2.00 per film ticket.
*All prices include a $1.50 Preservation Fee that goes directly into our capital account for films.
Monday film screenings are part of the Lincoln Theatre Member Mondays! Click here for details.
Film dates and times are subject to change and extended runs. Please check back here, or our phone message at 360.336.8955, day of show.