Life of Pi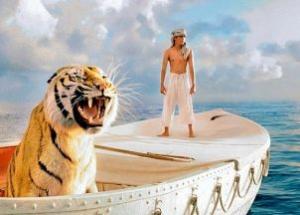 Saturday, Mar 16, 7:30 pm

Running Time: 127 minutes
See Life of Pi on the big screen before it's too late. It is a visual feast!

Based on the best-selling novel by Yann Martel, Life of Pi is a magical adventure story centering on Pi Patel, the precocious son of a zookeeper. Dwellers in Pondicherry, India, the family decides to move to Canada, hitching a ride on a huge freighter. After a shipwreck, Pi is found adrift in the Pacific Ocean on a 26-foot lifeboat with a zebra, a hyena, an orangutan and a 450-pound Bengal tiger named Richard Parker, all fighting for survival.

Director: Ang Lee (Winner of Best Director at this year's Acacemy Awards)

Starring: Adil Hussain, Ayush Tandon, Gérard Depardieu, Irrfan Khan, Suraj Sharma, Tabu, Tobey Maguire

Reviews:

Certified Fresh (88%) on Rotten Tomatoes!

"A(n) adaptation of a supposedly "unfilmable" book, Ang Lee's Life of Pi achieves the near impossible -- it's an astonishing technical achievement that's also emotionally rewarding."

Empire
Reviewed by: Olly Richards

To produce a coherent film from Martel's tricky novel would be achievement enough, but Ang Lee has extracted something beautiful, wise and, at times, miraculous.

Total Film
Reviewed by: Matt Mueller

A riot of saturated colour and delirious imagination, Ang Lee's adap radiates spirituality. But it's also a simple, thrilling and gently uplifting tale of a boy, a boat and a tiger. Take the plunge.

The Globe and Mail (Toronto)
Reviewed by: Rick Groen

Every once in a long while, the right director comes across the right project at just the right moment, and things so often discordant fall into perfect harmony.

Chicago Sun-Times
Reviewed by: Roger Ebert

Is it real? Is this whole story real? I refuse to ask that question. Life of Pi is all real, second by second and minute by minute, and what it finally amounts to is left for every viewer to decide. I have decided it is one of the best films of the year.

Admission Prices*:
General: $10.00
Seniors, Students and Active Military: $9.00
Members: $8.00
Children 12 and under: $7.00
Bargain Matinee Prices (all shows before 6:00pm)
General: $8.00
Members: $6.00
Children 12 and under: $5.00

Your membership with the Lincoln Theatre saves you $2.00 per film ticket.

*All prices include a $1.50 Preservation Fee that goes directly into our capital account for films.

Monday film screenings are part of the Lincoln Theatre Member Mondays! Click here for details.

Film dates and times are subject to change and extended runs. Please check back here, or our phone message at 360.336.8955, day of show.