NT Live: This House - a new play by James Graham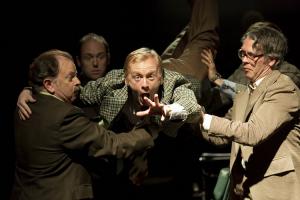 Thursday, May 16, 7:30 pm
Buy Tickets Now
It's 1974 and the corridors of Westminster ring with the sound of infighting and backbiting as Britain's political parties battle to change the future of the nation, whatever it takes. In this hung parliament, the ruling party holds on by a thread. Votes are won and lost by one, fist fights erupt in the bars, and ill MPs are hauled in to cast their votes.

It's a time when a staggering number of politicians die, and age-old traditions and allegiances are thrown aside in the struggle for power.

James Graham's biting, energetic and critically-acclaimed new play strips politics down to the practical realities of those behind the scenes who roll up their sleeves, and on occasion bend the rules, to manoeuvre a diverse and conflicting chorus of MPs within the Mother of all Parliaments.

This House is a fantastically witty, energetic and moving show which we know can be just as successful in cinemas as it has been at the National Theatre. Again we will broadcast the last performance so this is the very last chance for audiences to see this thrilling production, which became the surprise smash-hit of 2012.
Tickets: $15 general; $13 seniors; $11 students with $2 off for Lincoln Theatre Members.