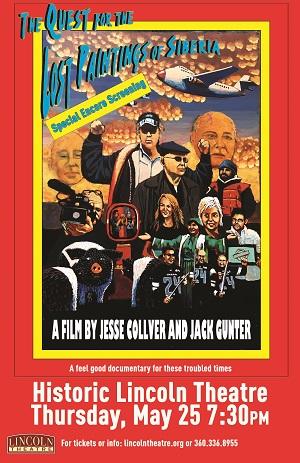 Saturday, Apr 29, 7:00 pm
Thursday, May 25, 7:30 pm
By popular demand a second screening of Lost Paintings has been added!
Twenty-seven years after seventeen of Jack Gunter's paintings were trapped in the basement of a Siberian museum. The story can now be told.
The documentary film titled, The Quest for the Lost Paintings of Siberia, is premiering in three cities in the Pacific Northwest.
Featuring Jack's original art and animation, an original score by Patrick Donicht, and narration by Ed Bednarczyk, this epic adventure takes its viewers from the remote
Mongolian frontier to a national museum opening where Jack reaches out to the Russian people with a message of peace, and leads the former Soviet Union in a Seattle Seahawks 12th man cheer.
Can he bribe his way through the Stalin-era red tape to get his lost art home? Will he have the aforementioned art on display at the Lincoln that evening? Will we be serving Russian Vodka in our Art Bar? Will Jack be here to give us first-hand information? Time is running out. Be here to find out.
"A feel good documentary for these troubled times."
Don't miss it.
Nick Nicolai featured on the Mighty Wurlitzer
Advance tickets: $12 + applicable fees. Members receive $2.00 off.