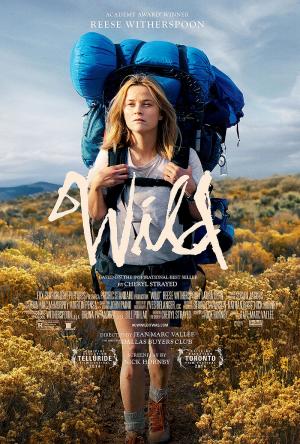 We are excited to finally screen Wild, one of our most requested films of the year, featuring Oscar nominated performances by Reese Witherspoon and Laura Dern.
 
After years of reckless behavior, a heroin addiction and the destruction of her marriage, Cheryl Strayed (Reese Witherspoon) makes a rash decision. Haunted by memories of her mother Bobbi (Laura Dern) and with absolutely no experience, she sets out to hike more than a thousand miles on the Pacific Crest Trail all on her own.
 
Director: Jean-Marc Vallée
 
Starring: Reese Witherspoon, Laura Dern, Gaby Hoffmann & Michiel Huisman, 
 
What the critics are saying:
Certified Fresh on Rotten Tomatoes
"Powerfully moving and emotionally resonant, Wild finds director Jean-Marc Vallée and star Reese Witherspoon working at the peak of their respective powers."
New Orleans Times-Picayune
Mike Scott
There are other movies out this year that are more technically ambitious than Wild (I'm thinking "Birdman.") There are others that are wider-reaching in scope and sheer audacity (the 12-years-in-the-making "Boyhood"). But there aren't any others that offer the power and profundity of Wild. This movie is a gift. It's also a journey.
New York Observer
Rex Reed
 
It's one of the year's most galvanizing cinematic experiences.
HitFix
Drew McWeeny
Witherspoon does really uncompromising work here, playing Cheryl without any hesitancy or any fear or any ego. It's not a glamorous role, and she doesn't try to make Cheryl seem perfect, and she doesn't sand off this woman's rough edges. .
Admission Prices*:
General: $10.00
Seniors, Students and Active Military: $9.00
Members: $8.00
Children 12 and under: $7.00
Sunday Bargain Prices
General: $8.00
Members: $6.00
Children 12 and under: $5.00
Add $2.00 to the above prices for 3D screenings.
Your membership with the Lincoln Theatre saves you $2.00 per film ticket.
*All prices include a $1.50 Preservation Fee that goes directly into our capital account for preservation of the Lincoln Theatre and its programs. Film tickets are only available at the door beginning 45 minutes before the first screening of the day. This saves you, the ticket buyer the fees associated with purchasing online. Never fear – there are plenty of seats!
 
Monday film screenings are part of the Lincoln Theatre Member Mondays! Click here for details.
 
Film dates and times are subject to change and extended runs. Please check back here, or our phone message at 360.336.8955, day of show.