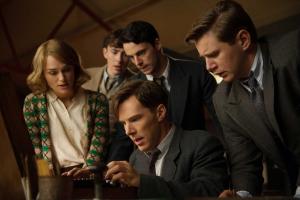 During the winter of 1952, British authorities entered the home of mathematician, cryptanalyst and war hero Alan Turing to investigate a reported burglary. They instead ended up arresting Turing himself on charges of 'gross indecency', an accusation that would lead to his devastating conviction for the criminal offense of homosexuality – little did officials know, they were actually incriminating the pioneer of modern-day computing. Famously leading a motley group of scholars, linguists, chess champions and intelligence officers, he was credited with cracking the so-called unbreakable codes of Germany's World War II Enigma machine.
 
Director: Morten Tyldum
Starring: Benedict Cumberbatch, Keira Knightley, Allen Leech and Matthew Goode
 
What the critics are saying:
Certified Fresh on Rotten Tomatoes
"With an outstanding starring performance from Benedict Cumberbatch illuminating its fact-based story, The Imitation Game serves as an eminently well-made entry in the "prestige biopic" genre. "
Charlotte Observer
Lawrence Toppman
This suspenseful drama reveals pieces of its puzzle steadily and slowly, until the final heartrending picture can be seen at last. Remarkably, it comes from a screenwriter who had never had a feature film produced and a director who had never made one in English.
Chicago Sun-Times
Bill Zwecker
The film works as well as it does due to the genius of Benedict Cumberbatch and the way he has inhabited Alan Turing's persona. 
Los Angeles Times
Kenneth Turan
The disturbing, involving, always-complex story of British mathematician Alan Turing is a tale crafted to resonate for our time, and the smartly entertaining The Imitation Game gives it the kind of crackerjack cinematic presentation that's pure pleasure to experience.
 
Admission Prices*:
General: $10.00
Seniors, Students and Active Military: $9.00
Members: $8.00
Children 12 and under: $7.00
Sunday Bargain Prices:
General: $8.00
Members: $6.00
Children 12 and under: $5.00
Add $2.00 to the above prices for 3D screenings.
Your membership with the Lincoln Theatre saves you $2.00 per film ticket.
*All prices include a $1.50 Preservation Fee that goes directly into our capital account for preservation of the Lincoln Theatre and its programs. Film tickets are only available at the door beginning 45 minutes before the first screening of the day. This saves you, the ticket buyer the fees associated with purchasing online. Never fear – there are plenty of seats!
 
Monday film screenings are part of the Lincoln Theatre Member Mondays! Click here for details.
 
Film dates and times are subject to change and extended runs. Please check back here, or our phone message at 360.336.8955, day of show.