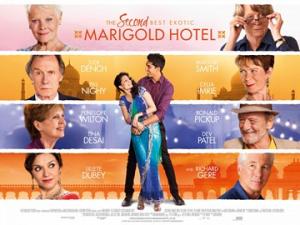 Saturday, May 23, 7:30 pm
A donation basket for Kummar and Puja Sharma, owners of Taste of India and long-time supporters of the Lincoln Theatre and the downtown community in general, has been set up in our lobby to help with the devastating loss of their business in last Thursday's fire. It is a sad irony that Kummar and Puja donated to the Lincoln  when we screened The (first) Best Exotic Marigold Hotel here three years ago. Last night's contributions raised over $150 to help with the recovery efforts.
 
Now that The Best Exotic Marigold Hotel is full up with its long-term residents, co-managers Muriel Donnelly (Maggie Smith) and Sonny Kapoor (Dev Patel) have a dream of expansion, and they've found just the place: The Second Best Exotic Marigold Hotel. With plans underway, Evelyn and Douglas (Judi Dench and Bill Nighy) venture into the Jaipur workforce, wondering where their regular breakfast dates will lead. Meanwhile, Norman and Carol (Ronald Pickup and Diana Hardcastle) navigate the swirling waters of an exclusive relationship, as Madge (Celia Imrie) juggles two very eligible suitors, and recent arrival Guy Chambers (Richard Gere) finds a muse in Sonny's mother, Mrs. Kapoor (Lillete Dubey) for his next novel. As his marriage to Sunaina (Tina Desai), the love of his life, quickly approaches, Sonny finds his plans for the new hotel making more claims on his time than he has available. Perhaps the only one who may know the answers is Muriel, the keeper of everyone's secrets. As the big day nears, family and guests alike find themselves swept up in the irresistible intoxication of an Indian wedding.​
 
Director: John Madden
Starring:  Bill Nighy, Celia Imrie, David Strathairn, Dev Patel, Judi Dench, Maggie Smith, Penelope Wilton, Richard Gere, and Ronald Pickup
 
Empire
Nev Pierce
An entirely charming extension of the most unlikely franchise, gently handling big themes and dissolving cynicism with laughter. Maggie Smith is superb.
San Francisco Chronicle
Thomas Lee
I would gladly see the movie again, if just to see Smith do her trademark grumpy English thing.
Variety
Peter Debruge
It's not so common to find an ensemble of this caliber so enthusiastic to work together, and that chemistry comes across.