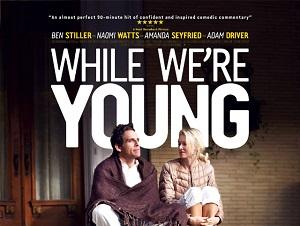 Saturday, May 30, 7:30 pm
Noah Baumbach's comedy While We're Young stars Ben Stiller and Naomi Watts as Josh and Cornelia, a childless New York married couple in their mid-forties. As their other friends all start having children, the couple gravitates toward a young hipster couple named Jamie (Adam Driver) and Darby (Amanda Seyfried). He's an aspiring documentary filmmaker, a vocation Josh already has. Soon the older couple begins enjoying the energy they feel haging out with the younger generation, but eventually Josh begins to suspect his new best friend might not be as straightforward and trustworthy as he thought. 
 
Director: Noah Baumbach
Starring:  Ben Stiller, Naomi Watts, Adam Driver and Amanda Seyfried
 
What the critics are saying:
Certified Fresh on Rotten Tomatoes
"Poignant and piercingly honest, While We're Young finds writer-director Noah Baumbach delivering some of his funniest lines through some of his most relatable characters. "
New York Daily News
Joe Neumaier
Noah Baumbach's sensational satirical drama While We're Young is, finally, a movie for grownups to run out and see.
Los Angeles Times
Kenneth Tura
This delicious satire about aging hipsters and their discontents is everything we've come to expect from the best of Noah Baumbach, as well as several things more. 
 
The Guardian
Catherine Shoard
An almost perfect 90-minute hit of confident and inspired comedic commentary.
 
Wurlitzer Organists:
Friday, May 29th & Saturday, May 30th:  Fred Beeks
Sunday, May 31st:  Glen Des Jardins
Monday, June 1st:  Harvey Rossiter
Admission Prices*:
General: $10.00
Seniors, Students and Active Military: $9.00
Members: $8.00
Children 12 and under: $7.00
Sunday Bargain Prices:
General: $8.00
Members: $6.00
Children 12 and under: $5.00
Add $2.00 to the above prices for 3D screenings.
Your membership with the Lincoln Theatre saves you $2.00 on a regular priced ticket.
*All prices include a $1.50 Preservation Fee that goes directly into our capital account for preservation of the Lincoln Theatre and its programs. Film tickets are only available at the door beginning 45 minutes before the first screening of the day. This saves you, the ticket buyer the fees associated with purchasing online. Never fear – there are plenty of seats!
 
Monday film screenings are part of the Lincoln Theatre Member Mondays! Click here for details.
 
Film dates and times are subject to change and extended runs. Please check back here, or our phone message at 360.336.8955, day of show.