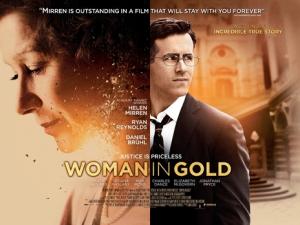 Saturday, Jun 13, 3:00 pm
Sixty years after she fled Vienna during World War II, an elderly Jewish woman, Maria Altmann (Helen Mirren), starts her journey to retrieve family possessions seized by the Nazis, among them Klimt's famous painting 'The Lady in Gold'. Together with her inexperienced but plucky young lawyer Randy Schoenberg (Ryan Reynolds), she embarks upon a major battle which takes them all the way to the heart of the Austrian establishment and the U.S. Supreme Court, and forces her to confront difficult truths about the past along the way.
 
Starring:  Helen Mirren, Jonathan Pryce, Katie Holmes, Max Irons, Ryan Reynolds, Tatiana Maslany, Charles Dance, Daniel Brühl and Elizabeth McGovern
Wurlitzer Organists
June 12-13:  Harvey Rossiter
June 14:  Glen Des Jardins
June 15:  Fred Beeks
 
Fred Beeks
What the critics are saying:
It's a touching film that entertains with warmth and humor while teaching us something about history, law and justice with enormous heart, subtlety and compassion, brilliantly acted and skillfully written. Is there anything Helen Mirren cannot do?
Rex Reed, New York Observer
Even with a starry cast, the stirring true story is this drama's standout feature.
Anna Smith, Empire
The transformation of Reynold's lawyer from a bumbler and stumbler to a victorious litigator, sticking it to an entire nation, is the stuff of a Frank Capra/Jimmy Stewart pic.
Steven Rea, Philadelphia Inquirer
It's a ripping yarn, this, deftly directed by Simon Curtis (My Week With Marilyn) and full of emotional cadences, subtle shifts of mood and changing motivations.
Jim Schembri, 3AW
Admission Prices*:
General: $10.00
Seniors, Students and Active Military: $9.00
Members: $8.00
Children 12 and under: $7.00
Sunday Bargain Prices:
General: $8.00
Members: $6.00
Children 12 and under: $5.00
Add $2.00 to the above prices for 3D screenings.
Your membership with the Lincoln Theatre saves you $2.00 per film ticket.
*All prices include a $1.50 Preservation Fee that goes directly into our capital account for preservation of the Lincoln Theatre and its programs. Film tickets are only available at the door beginning 45 minutes before the first screening of the day. This saves you, the ticket buyer the fees associated with purchasing online. Never fear – there are plenty of seats!
 
Monday film screenings are part of the Lincoln Theatre Member Mondays!
Click here http://www.lincolntheatre.org/benefits-membership
for details.
Film dates and times are subject to change and extended runs. Please check back here, or our phone message at 360.336.8955, day of show.