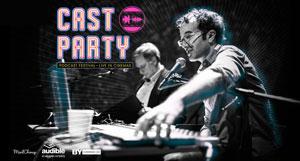 On July 28th -- live from New York City -- hosts of several of the biggest and best podcasts in the world will convene for CAST PARTY, a festive, rousing original variety show beamed live via satellite into movie theaters all over North America. Podcasts across genres and networks will join to celebrate the emergence of podcasting as a powerhouse medium with millions of obsessed fans. CAST PARTY will feature brand new stories and performances by WNYC's dynamo RADIOLAB, NPR's newest mega-hit INVISIBILIA, Gimlet Media's deep dive into the Internet REPLY ALL, Earwolf's improv comedy show WITH SPECIAL GUEST LAUREN LAPKUS, and PRX's bold (and often hilarious) radio drama THE TRUTH. Also featuring surprise guests, music and dance performances, original videos, and more. BY Experience presents.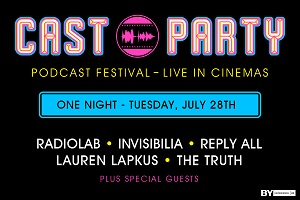 Featured Podcasts include: 
 Radiolab - the megahit show from New York's public radio WNYC and NPR (National Public Radio), about science and more. Over 1 million downloads per episode
 Reply All - a show about the Internet, from Gimlet media. Has quickly amassed a large and loyal audience since debuting in late 2014. 350,000 downloads per episode
 Invisibilia - NPR show about the hidden forces in our lives. 4 million downloads per episode
 The Truth - contemporary radio drama from PRX (Public Radio Exchange). 100,000 downloads per episode
 With Special Guest Lauren Lapkus - improv comedy podcast created by Orange Is The New Black star Lauren Lapkus. High profile comedian guest. Produced by Earwolf.  100,000 downloads per episode (estimated)
 Plus additional shows TBA, musical and dance interstitials, video projection and more!
 Show hosts will all perform brand new segments. Podcasts will all heavily promote the cinema screenings in advance, in numerous episodes each. Projected graphics and lighting changes will adjust the mood throughout as we move between podcasts. We will capture the show with eight HD cameras, directed by an alum of the Colbert Report.
 Presenting sponsors:
 Advance Tickets: $18 general, $16 senior, $14 student with $2 off for Lincoln Theatre members.