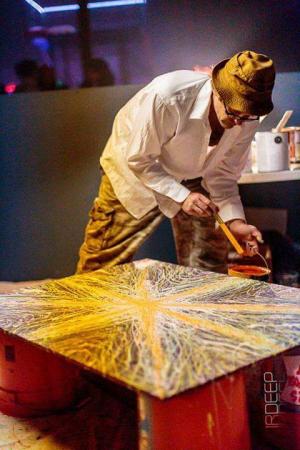 The Lincoln Theatre Gallery Art Bar will feature a selection of Bill Ball Fireball's contemporary art.  Bill will be painting live during his artist opening and the Mount Vernon Art Walk on June 2, 2016, 5pm to 8pm. The show features selected contemporary works created since he completed his first painting at Burning Man in 2013.  Bill Ball Fireball's work will be displayed at the Lincoln Theatre Art Bar through June 30, 2016.
  
Bill Ball Fireball's Artist Statement:  It all started in 2013. With no formal training in art, I only discovered that I was an artist when I found myself at Burning Man, a week long art and music event in the Nevada desert. Artists were constructing and painting walls and sharing spaces. I was given a wall. I was tentative at first but threw myself into painting. "Psychedelic Cross" was the result, a large, vibrant, multicolored work... but a temporary one. I slept for a few hours and awoke to find it had been painted over. 
With this loss I began to revisit the recent loss of my entire family. Could I heal myself with my creativity? I picked up a one-inch brush and for hours threw paint with pain and anger, using color to process and heal. I finished painting, stepped back and turned to see what I had created. I smiled, laughed, and cried all at once realizing I had unlocked a hidden artist. I came home and converted my living room into my new art studio.  I have been invited back to paint murals at Burning Man's Center Camp in 2014, 2015, and 2016. I have been showing art locally, live painting and mural painting at festivals for the last 3 years.
A graduate of Everett High School and 14 year resident of Mount Vernon, Bill is also a journeyman electrician, writer, performance artist (dance, firebreathing, and escape), and former endurance athlete who ran in 100 mile ultra mountain marathons and swam the length of Lake Washington.
Bill paints abstract expressionism, surrealism, and other contemporary genres of art.   Bill is inspired by visionary artists such as Alex Grey and by the Northwest Mystics including Mark Tobey, Guy Anderson, and Leo Kenney.  "Like the Northwest Mystics, I go within myself and create the things I see."    Bill currently resides in Mukilteo, WA and is searching for studio space in his favorite place to create--the Skagit Valley. 
Notable Live Painting at Events/Festivals 2013-2016.  (Includes scheduled 2016 live painting events.)
SeaCompression 2013, 2014, 2015
Elements of Bass with Alex Grey 2014
Wildlife Festival 2014
Tranquil Festival 2014
Oyster Run (Anacortes, WA) 2014
Photosynthesis Festival 2014
Desert Dwellers at Nuemos 2015
Phutureprimative at Nectar 2015
Sacred Bass Sessions 2013-2015
Conscious Culture Festival 2014, 2015
Edmonds Artist in Action 2015
Anacortes Music Channel During Anacortes Arts Festival 2015
Burning Man Center Camp 2014, 2015, 2016
Cascadia NW Festival 2015, 2016
Critical Northwest 2014, 2016
Sasquatch Festival 2016
 
https://www.facebook.com/BillBallfireball
 
http://instagram.com/download/?r=2218200361