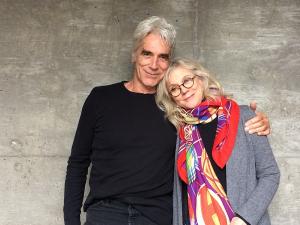 Saturday, Jul 25, 7:30 pm
Carol, a widow in her 70's, is forced to confront her fears about love, family, and death. After her routine is rattled she decides to start dating again and falls into relationships with two very different men.
 
Director: Brett Haley
 
Starring: Blythe Danner, June Squibb, Malin Åkerman, Martin Starr, Mary Kay Place, Reid Scott, Rhea Perlman, Sam Elliott
 
Wurlitzer Organists:
July 24: Nick Nicholai
July 25 & 27: Fred Beeks
 
What the critics are saying:
 
San Francisco Chronicle, Mick LaSalle
Now after 43 years in feature films, Danner has gotten the opportunity to show what she can do, and in I'll See You in My Dreams, she is simply jaw-dropping, just wonderful.
 
Village Voice, Stephanie Zacharek
It's crucial to note, too, that this isn't just a nice little movie for older people: There's some real bite to the way it deals with the life questions that come with aging, and whatever sweetness it has is just an undertone, not a feel-good frosting overlay.
 
New York Post, Lou Lumenick
Playing a slightly autobiographical role — reinforced by a karaoke sequence that gently nods to "Duets," the final film directed by Danner's late real-life husband, Bruce Paltrow, and starring their daughter Gwyneth — Danner shines in scene after scene.
 
Austin Chronicle, Kimberley Jones
Danner's even better on her own, as she honestly, even angrily, wrangles with not a paradox, per se, just the raw rub of life: that it sucks to be alone, and it's scary to try not being alone. She's exquisite.
 
The New York Times, Stephen Holden
A modest, quietly touching portrait of an older woman radiantly embodied by Blythe Danner.
 
Admission Prices*:
 
General: $10.00
Seniors, Students and Active Military: $9.00
Members: $8.00
Children 12 and under: $7.00
 
Sunday Bargain Prices:
 
General: $8.00
Members: $6.00
Children 12 and under: $5.00
 
Add $2.00 to the above prices for 3D screenings.
 
Your membership with the Lincoln Theatre saves you $2.00 per film ticket.
 
*All prices include a $1.50 Preservation Fee that goes directly into our capital account for preservation of the Lincoln Theatre and its programs. Film tickets are only available at the door beginning 45 minutes before the first screening of the day. This saves you, the ticket buyer the fees associated with purchasing online. Never fear – there are plenty of seats!
 
Monday film screenings are part of the Lincoln Theatre Member Mondays! Click here for details. Film dates and times are subject to change and extended runs.
Please check back here, or our phone message at 360.336.8955, day of show.