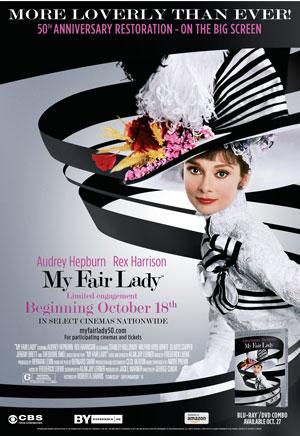 3 hours and 12 minutes (includes 10 minute intermission & bonus featurette)
My Fair Lady is now more "lovelier" than ever with a breathtaking new restoration playing in cinemas nationwide for a limited time only.  In honor of its 50th Anniversary, this eight time OSCAR winning musical has been restored frame-by-frame from the original 65mm negative and scanned utilizing start-of-the-art technology under the supervision of Robert Harris (the famed film historian).
 
Audrey Hepburn has never looked more radiant than as Eliza Doolittle who finds herself at the center of a friendly wager between Professor Henry Higgins (Rex Harrison) and his companion, Colonel Pickering (Wilfred Hyde-White). Can this disheveled, cockney flower girl find her voice and blossom into a proper lady presentable in high society?  Performance, style and sweet spirit…plus an unforgettable score… have made My Fair Lady one of the greatest musicals in film history and a beloved and timeless classic that begs to be experienced on the big screen.  
 
Bonus featurette (to air prior to film):  The Fairest Fair Lady, a 10 minute theatrical trailer produced by Warner Bros. for the film's original release will be added to the event screenings.  The Fairest Lady takes a revealing and fascinating behind-the-scenes look at the remarkable efforts that went into making My Fair Lady.
Advance Tickets: $16 adults; $14 seniors; $12 students and children plus applicable fees. Lincoln Theatre Members receive $2 off per ticket.