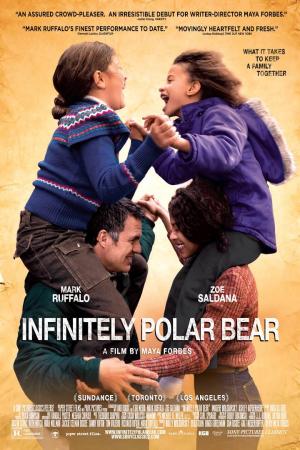 Saturday, Aug 22, 7:30 pm
A manic-depressive mess of a father tries to win back his wife by attempting to takefull responsibility of their two young, spirited daughters, who don't make the overwhelming task any easier.
 
Starring: Mark Ruffalo, Zoe Saldana, Ashley Aufderheide and Imogene Wolodarsky
 
Director: Maya Forbes
 
Wurlitzer Organists:
 
Friday, August 21st and Monday, August 23:  Harvey Rossiter
 
Saturday, August 22nd:  Fred Beeks
 
Sunday, August 23rd:  Glen Des Jardins
 
What the critics are saying:
 
St. Louis Post-Dispatch, Calvin Wilson
 
"As the central character in "Polar Bear," Ruffalo impressively explores the geography of a troubled mind, and makes the journey fascinating."
 
Tampa Bay Times, Steve Persall
 
"Forbes' screenplay is fuller of humor than the topic might suggest, and Ruffalo as usual is imminently watchable, in a uniquely feel-good movie."
 
The Telegraph, Amber Wilkinson
 
"Forbes has a delicate but unsentimental approach, which gives her film the same infectious energy that blesses and curses Cameron. The end result feels good without feeling superficial."
 
New York Post, Lou Lumenick
 
"Cam (based on the director's real-life father) is so charming and gifted in various ways that it's easy to enjoy this fanciful look at a bohemian mixed-race family."
 
Los Angeles Times, Sheri Linden
 
"Forbes pushes the positivity a bit insistently, yet one of the most appealing aspects of her film is its depiction of kids thriving in an unorthodox household."
 
General: $10.00
Seniors, Students and Active Military: $9.00
Members: $8.00
Children 12 and under: $7.00
Sunday Bargain Prices:
General: $8.00
Members: $6.00
Children 12 and under: $5.00
Add $2.00 to the above prices for 3D screenings.
Your membership with the Lincoln Theatre saves you $2.00 per film ticket.
 
*All prices include a $1.50 Preservation Fee that goes directly into our capital account for preservation of the Lincoln Theatre and its programs.
 
Film tickets are only available at the door beginning 45 minutes before the first screening of the day. This saves you, the ticket buyer the fees associated with purchasing online. Never fear – there are plenty of seats!
 
Monday film screenings are part of the Lincoln Theatre Member Mondays! Click here http://www.lincolntheatre.org/benefits-membership for details. Film dates and times are subject to change and extended runs. Please check back here,or our phone message at 360.336.8955, day of show.