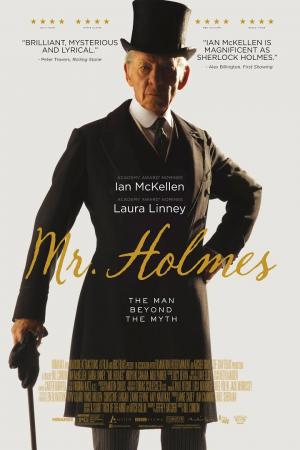 In 1947, an aging Sherlock Holmes (Ian McKellen) returns from a journey to Japan, where, in search of a rare plant with powerful restorative qualities, he has witnessed the devastation of nuclear warfare. Now, in his remote seaside farmhouse, Holmes faces the end of his days tending to his bees, with only the company of his housekeeper and her young son, Roger. Grappling with the diminishing powers of his mind, Holmes comes to rely upon the boy as he revisits the circumstances of the unsolved case that forced him into retirement, and searches for answers to the mysteries of life and love – before it's too late.
 
Starring: Hattie Morahan, Hiroyuki Sanada, Ian McKellen, and Laura Linney
 
Director: Bill Condon
 
What the critics are saying:
 
Philadelphia Inquirer, Steven Rea
 
Mr. Holmes is about how the past defines us. It is also very much about regret and trying to put things right.
 
Los Angeles Times. Kenneth Turan
 
Maneuvering shrewdly within the boundaries of the traditional canon and aided by the impeccable performance of Ian McKellen, Bill Condon directs an elegant puzzler that presents the sage of Baker Street dealing with the one thing he's never had to contend with before: his own emotions.
 
Portland Oregonian, Marc Mohan
 
There will always be plenty of fictional geniuses solving impossible crimes, but Holmes, it turns out, is where the heart is.
 
Film Prices:
General: $10.00
Seniors, Students and Active Military: $9.00
Members: $8.00
Children 12 and under: $7.00
Sunday Bargain Prices:
General: $8.00
Members: $6.00
Children 12 and under: $5.00
Add $2.00 to the above prices for 3D screenings.
Your membership with the Lincoln Theatre saves you $2.00 per film ticket.
 
*All prices include a $1.50 Preservation Fee that goes directly into our capital account for preservation of the Lincoln Theatre and its programs.
 
Film tickets are only available at the door beginning 45 minutes before the first screening of the day. This saves you, the ticket buyer the fees associated with purchasing online. Never fear – there are plenty of seats!
 
Monday film screenings are part of the Lincoln Theatre Member Mondays! Click here for details.
 
Film dates and times are subject to change and extended runs. Please check back here, or our phone message at 360.336.8955, day of show.