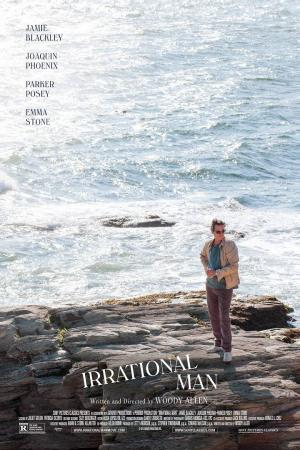 Saturday, Sep 12, 7:30 pm
On a small town college campus, a philosophy professor in existential crisis gives his life new purpose when he enters into a relationship with his student.
 
Starring: Emma Stone, Joaquin Phoenix, and Parker Posey
 
Director: Woody Allen
 
What the critics are saying:
 
The Hollywood Reporter, David Rooney
 
"Allen's dialogue is witty, his plotting zings along with forward momentum in all the right places, and his observation of elastic moral principles in flux is both mischievous and unsettling, yielding a tasty final-act Hitchcockian twist."
 
Screen International, Graham Fuller
 
"Irrational Man heads to one of the most startling pieces of action he's ever filmed. It hints where he stands now as a moralist or cynic in a corrupt world."
 
indieWIRE, Eric Kohn
 
"If the genre elements sustain the work as a whole, the plot suffers from the meandering quality that frequently plagues late period Allen work. Still, the filmmaking finds its groove in individual moments."
 
The A.V. Club, Ignatiy Vishnevetsky
 
"Though Irrational Man's existentialist moral crisis is mostly hokum, the movie still has a whiff of charm, thanks to a handful of good one-liners, a little misdirection, and Phoenix's off-kilter performance, which completely ignores the rhythm of Allen's speech in favor of naturalistic mojo."
 
Film Prices:
General: $10.00
Seniors, Students and Active Military: $9.00
Members: $8.00 Children 12 and under: $7.00
Sunday Bargain Prices:
General: $8.00
Members: $6.00
Children 12 and under: $5.00
 
Add $2.00 to the above prices for 3D screenings. Your membership with the Lincoln Theatre saves you $2.00 per film ticket.
 
*All prices include a $1.50 Preservation Fee that goes directly into our capital account for preservation of the Lincoln Theatre and its programs.
 
Film tickets are only available at the door beginning 45 minutes before the first screening of the day. This saves you, the ticket buyer the fees associated with purchasing online. Never fear – there are plenty of seats!
 
Monday film screenings are part of the Lincoln Theatre Member Mondays! Click here for details.
 
Film dates and times are subject to change and extended runs. Please check back here,or our phone message at 360.336.8955, day of show.