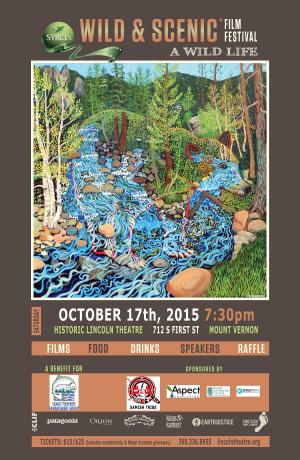 Saturday, Oct 17, 7:30 pm
The Wild & Scenic Film Festival is a collection of films from the annual festival held the third week of January in Nevada City, CA which is now in its 13th year! Wild & Scenic focuses on films which speak to the environmental concerns and celebrations of our planet. "Films featured at Wild & Scenic give people a sense of place," says Tour Associate Director, Amelia Workman. "In today's busy world, it is easy to disconnect from our role in the global ecosystem. When we realize that the change we need in this world begins with us, we start making a difference. Come get inspired!"
 
Featured at the tour event at the Lincoln will be 11 films selected from the Wild and Scenic Film Festival's full lineup. The festival is a natural extension of the Skagit Fisheries Enhancement Group's work to inspire people to act on behalf of the environment.
The Wild & Scenic Film Festival was started by the watershed advocacy group, the South Yuba River Citizens League (SYRCL) in 2003. The festival's namesake is in celebration of SYRCL's landmark victory to receive "Wild & Scenic" status for 39 miles of the South Yuba River in 1999. The 4-day event features over 100 award-winning films and welcomes over 100 guest speakers, celebrities, and activists who bring a human face to the environmental movement. The home festival kicks-off the international tour to over 150 communities around the globe, allowing SYRCL to share their success as an environmental group with other organizations. The festival is building a network of grassroots organizations connected by a common goal of using film to inspire activism. With the support of National Partners: Patagonia, CLIF Bar, Sierra Nevada Brewing, Orion Magazine, Klean Kanteen, Earthjustice, and Barefoot Wine & Bubbly, the festival can reach an even larger audience.
 
The Wild and Scenic Film Festival is presented by the Skagit Fisheries Enhancement Group with the help of the Samish Tribe, Aspect Consulting, the Skagit Watershed Council, and Amorterra.
 
Advance Tickets:
 
$15 includes reception, Film Festival admission and free raffle ticket
$25 includes reception, Film Festival admission, free raffle ticket, discounted SFEG membership package, and a free Klean Kanteen giveaway
 
All film festival tickets include a free ticket to enter into the raffle drawing to win great prizes from local and national sponsors such as Klean Kanteen, Patagonia, Cliff Bar, Seattle Sports, Orion Magazine and more.
Additional raffle tickets may be purchased at the event
 
Doors open at 6:30 pm with a reception in the Lincoln's Art Bar featuring Sierra Nevada Brewery beers
 
Films begin at 7:30 pm
 
Here is a link to the Skagit Fisheries Enhancement Group's Website that shows the list of films to be shown at the Festival: www.skagitfisheries.org/skagit-wild-scenic-film-festival/