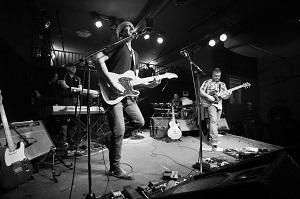 Saturday, December 19, 2015 - 7:00pm
Advance ticket: $17.00 Festival
Flowmotion, Vicci Martinez, Danny Barnes & Jacob Navarro together for a special Holiday Show at the Lincoln!
Flowmotion
Hidden beneath the bows of the Northwest evergreens is found Flowmotion, one of Seattle's most distinctly diverse rock bands. This is an act that fails to fall into an easily packaged genre, succeeds in defying stereotypes, and throws one hell of a party no matter what city, town or festival the five-piece band happens to land in.
The Flowmotion name has been in existence since 2001 under the creative eye of founder, guitarist and lead vocalist Josh Clauson – the only member of the band's original lineup.
The most recent addition to the Flowmotion lineup came last year in the form of guitarist RL Heyer, who brought to the already talented band an arsenal of rock licks. While Flowmotion always had a multi-genre attack hidden in its quiver, Heyer's skill set allows the band to transition from downright booty shaking funk to fist-pumping rock before the packed dance floor knows what hit them. When their show is in full swing, Clauson and Heyer's guitars converse pleasantly and aggressively, often escalating to arena rock levels while at the same time creating the sort of soundscapes typically reserved for the likes of Pink Floyd.
There are many music fans in the Northwest and beyond who will remember Flowmotion from their years of touring and festival appearances and expect the same band as they heard in the early part of this decade. While the spirit around which Clauson built the band is very much alive, the sound has evolved with Flowmotion incorporating more rock edginess without forgetting the dance floor grooves that have brought them this far. Whereas Clauson previously authored most of the Flowmotion repertoire, songwriting duties have since been delegated amongst the band resulting in set lists that skip across the spectrum reminding listeners of Zeppelin at some moments and Parliament at others.
It's been a steady climb for Flowmotion over the past decade, but it seems like the Northwest is going to have to give up its secret and let everyone in on what Flowmotion brings to the table – and the dance floor.


Vicci Martinez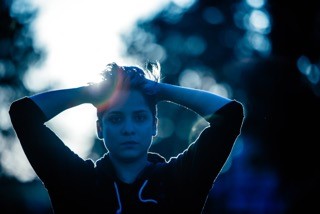 Vicci Martinez is a recording artist known for passionate performances, powerhouse vocals, and forging her own path—independently releasing music and touring the country for years before being a finalist on the first season of The Voice, NBC's primetime singing competition, in 2011. On the show, she was mentored by CeeLo Green and they released a single together, "Come Along," for her major label debut, Vicci. Martinez has shared the stage with BB King, The Roots, Ed Sheeran, Train, and more. She has returned to releasing music independently with a new found energy and urgency, a new ferocity. On May 1, 2015, she released I Am Vicci Martinez, written and produced with Enter-Exit-Stay. Its lead single, "Bad News Breaker," made its debut to nine million viewers on an episode of The Voice. Her music is raw, personal, powerful, and now—"Finally!" she says—the music she wants to dance to.
Opening the show: Danny Barnes and Jacob Navarro will warm up the stage with a banjo and guitar-fueled performance.  As one half of the Anacortes-based band Spoonshine, Jacob has an incredible picking style, and it's no surprise to find him collaborating with the likes of Danny Barnes.  If you don't know Danny Barnes by now, well, it's about time that you do. Danny has accompanied top tier acts such as Dave Matthews Band, and was recently awarded the Steve Martin Prize for Excellence in Banjo and Bluegrass.