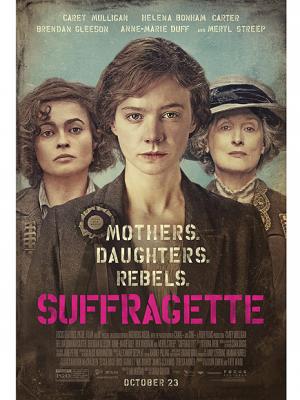 Saturday, Dec 12, 7:30 pm
Maud (Carey Mulligan) is a working wife and mother whose life is forever changed when she is secretly recruited to join the U.K.'s growing suffragette movement.
 
Starring:  Meryl Streep, Anne-Marie Duff, Ben Whishaw, Carey Mulligan, Helena Bonham Carter
 
Director: Sarah Gavron
 
What the critics are saying:
 
The Telegraph
Robbie Collin
 
It's written, shot and acted with a hot-blooded urgency that reminds you the struggle it depicts is an ongoing one – and which shakes up this most well-behaved of genres with a surge of civil disobedience.
 
indieWIRE
Eric Kohn
 
Director Sarah Gavron's celebratory chronicle would inspire strong reactions even if it wasn't much of a movie, but the filmmaker compliments her powerful tale with the immediacy of her filmmaking and performances on the same level. It's an unabashed message-driven story that imbues the past with modern power.
 
San Francisco Chronicle
Mick LaSalle
 
By avoiding the usual cliches of the freedom saga, Suffragette finds its way to its own, specific integrity. It's a movie that's easier to respect than love, but it is something to respect.
 
 
Film Prices:
 
General: $10.00
Seniors, Students and Active Military: $9.00
Members: $8.00
Children 12 and under: $7.00
 
Sunday Bargain Prices:
 
General: $8.00
Members: $6.00
Children 12 and under: $5.00
 
Add $2.00 to the above prices for 3D screenings.
 
Your membership with the Lincoln Theatre saves you $2.00 per film ticket.
 
*All prices include a $1.50 Preservation Fee that goes directly into our capital account for preservation of the Lincoln Theatre and its programs. Film tickets are only available at the door beginning 45 minutes before the first screening of the day. This saves you, the ticket buyer the fees associated with purchasing online. Never fear – there are plenty of seats!
 
Monday film screenings are part of the Lincoln Theatre Member Mondays! Click here for details.
 
Film dates and times are subject to change and extended runs. Please check back here, or our phone message at 360.336.8955, day of show.