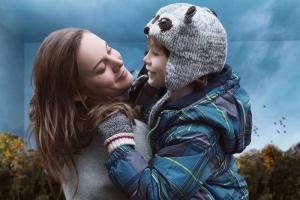 Saturday, Dec 26, 7:30 pm
Jack (Jacob Tremblay) is a spirited 5 year-old who is looked after by his loving and devoted Ma (Brie Larson). Like any good mother, Ma dedicates herself to keeping Jack happy and safe, nurturing him with warmth and love and doing typical things like playing games and telling stories. Their life, however, is anything but typical—they are trapped—confined to a windowless, 10-by-10-foot space, which Ma has euphemistically named "Room." Ma has created a whole universe for Jack within Room, and she will stop at nothing to ensure that, even in this treacherous environment, Jack is able to live a complete and fulfilling life. But as Jack's curiosity about their situation grows, and Ma's resilience reaches its breaking point, they enact a risky plan to escape, ultimately bringing them face-to-face with what may turn out to be the scariest thing yet: the real world.
 
Director:  Lenny Abrahamson 
 
Starring: Brie Larson, Jacob Tremblay, William H. Macy, and Joan Allen
 
What the critics are saying:
 
Ceertified Fresh on Rotten Tomatoes
 
Led by incredible work from Brie Larson and Jacob Tremblay, Room makes for an unforgettably harrowing -- and undeniably rewarding -- experience.
 
Charlotte Observer
Lawrence Toppman
 
The two most frightening concepts in Room, one of the most remarkable movies of 2015, are freedom and the lack of it.
 
New Orleans Times-Picayune
Mike Scott
 
In someone else's hands, Room easily could have become a horror movie. Instead, we get an emotional roller coaster ride -- at turns touching, harrowing, crushing and flat-out beautiful...Along the way, Abrahamson's Room becomes an immensely rewarding film, and the kind of movie that promises to stick with audiences long after the closing credits roll.
 
Philadelphia Inquirer
Steven Rea
 
Amazingly - and this movie is amazing - Room is a story of hope, of possibility. Sure, your stomach will be in knots, your fingers clenched, your heart racing. But it will also fill that heart with a sense of the goodness, the courage, the enduring love that is out there to be discovered - and to be held onto with the fierceness of life itself.
 
Film Prices:
 
General: $10.00
Seniors, Students and Active Military: $9.00
Members: $8.00
Children 12 and under: $7.00
 
Sunday Bargain Prices:
 
General: $8.00
Members: $6.00
Children 12 and under: $5.00
 
Add $2.00 to the above prices for 3D screenings.
 
Your membership with the Lincoln Theatre saves you $2.00 per film ticket.
 
*All prices include a $1.50 Preservation Fee that goes directly into our capital account for preservation of the Lincoln Theatre and its programs. Film tickets are only available at the door beginning 45 minutes before the first screening of the day. This saves you, the ticket buyer the fees associated with purchasing online. Never fear – there are plenty of seats!
 
Monday film screenings are part of the Lincoln Theatre Member Mondays! Click here  for details.
 
Film dates and times are subject to change and extended runs. Please check back here, or our phone message at 360.336.8955, day of show.