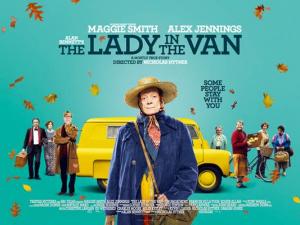 Saturday, Mar 12, 7:30 pm
Playwright Alan Bennett forms an unexpected bond with Miss Shepherd (Maggie Smith), a woman of uncertain origins who "temporarily" parked her van in Bennett's London driveway and proceeded to live there for 15 years.
 
Starring: Maggie Smith & Alex Jennings,
 
Director: Nicholas Hytner 
 
On the Mighty Wurlitzer:
 
 
Sunday, April 10th at Harvey Rossiter
 
Monday, April 11th at 7:30 Katie Moyer
 
What the Critics are saying:
 
Christian Science Monitor, Peter Rainer
 
The remarkable thing about Smith in The Lady in the Van is that, even though the role is no longer fresh for her, the performance certainly is. She gives it everything she's got because, you feel, she wants to honor this character. She wants Miss Shepherd to live on.
 
The Playlist, Kimber Myers
 
This isn't an overly sentimental story; those expecting the emotional swells of other British fare like "Pride" and "Kinky Boots" should adjust their expectations. The Lady in the Van is a more buttoned-up narrative, but it's no less engaging thanks to Smith, Jennings, and Bennett's script.
 
Wall Street Journal,Joe Morgenstern
 
This English film, directed by Nicholas Hytner, is also wonderfully funny, terribly touching and a vehicle — with comically dilapidated vehicles — for the boundless gifts of Maggie Smith.
 
Washington Post, Ann Hornaday
 
There's no denying the humor and pathos of The Lady in the Van, just as there's no use fending off the force of nature that is Smith.
 
Film Prices:
 
General: $10.00
Seniors, Students and Active Military: $9.00
Members: $8.00
Children 12 and under: $7.00
 
Sunday Bargain Prices:
 
General: $8.00
Members: $6.00
Children 12 and under: $5.00
 
Add $2.00 to the above prices for 3D screenings.
 
Your membership with the Lincoln Theatre saves you $2.00 per film ticket.
 
*All prices include a $1.50 Preservation Fee that goes directly into our capital account for preservation of the Lincoln Theatre and its programs. Film tickets are only available at the door beginning 45 minutes before the first screening of the day. This saves you, the ticket buyer the fees associated with purchasing online. Never fear – there are plenty of seats!
 
Monday film screenings are part of the Lincoln Theatre Member Mondays! Click here http://www.lincolntheatre.org/benefits-membership for details.
 
Film dates and times are subject to change and extended runs. Please check back here, or our phone message at 360.336.8955, day of show.