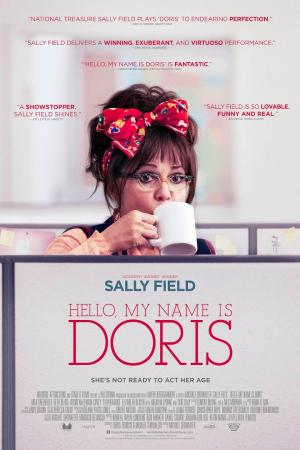 Saturday, Apr 30, 7:30 pm
When Doris Miller (Sally Field) meets John Fremont (Max Greenfield), her company's hip new art director, sparks fly—at least for Doris. Her first encounter with true romance (outside of the pages of a novel) convinces Doris that she and the mostly unaware John are meant for each other. In the cluttered house she shared with her late mother, Doris mines the Internet for information on her one-and-only, guided by the 13-year-old granddaughter of her best pal Roz (Tyne Daly). When Doris begins showing up at John's regular haunts, she wins over his Williamsburg friends with her eclectic vintage wardrobe, quirky naiveté and unironic enthusiasm for their rooftop knitting circle. Her new life brings Doris a thrilling perspective, but also creates a rift between her and her longtime friends and family, who believe she's making a fool of herself over a guy half her age.
 
Starring: Sally Field, Tyle Daily, Elizabeth Reaser, Kumail Nanjiani, Max Greenfield, Natasha Lyonne, Director: Michael Showalter 
 
What the critics are saying:
 
indieWIRE,
Eric Kohn
 
More than anything else, Hello, My Name is Doris effectively conveys the cruel ambivalence of an ageist society, and despite its formulaic ingredients, the movie responds to that setback with Field's exuberant, virtuoso turn providing the ultimate critical response.
 
Philadelphia Inquirer,
Molly Eichel
 
Watching Field work her magic is so delightful.
 
Charlotte Observer,
Lawrence Toppman
 
The reason to see the movie is Field.
 
Film Prices:
 
General: $10.00
 
Seniors, Students and Active Military: $9.00
 
Members: $8.00
 
Children 12 and under: $7.00
 
Sunday Bargain Prices:
 
General: $8.00
 
Members: $6.00
 
Children 12 and under: $5.00
 
Add $2.00 to the above prices for 3D screenings.
 
Your membership with the Lincoln Theatre saves you $2.00 per film ticket.
 
*All prices include a $1.50 Preservation Fee that goes directly into our capital account for preservation of the Lincoln Theatre and its programs.
 
Film tickets are only available at the door beginning 45 minutes before the first screening of the day. This saves you, the ticket buyer the fees associated with purchasing online. Never fear – there are plenty of seats!
 
Click here http://www.lincolntheatre.org/benefits-membership for membership details.
 
Film dates and times are subject to change and extended runs. Please check back here, or our phone message at 360.336.8955, day of show.