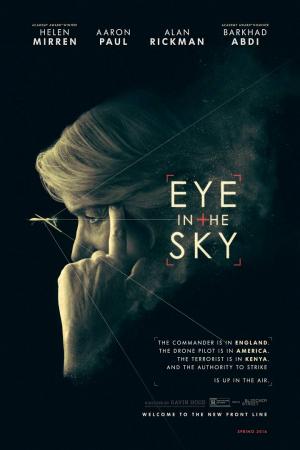 Starring: Aaron Paul, Alan Rickman, Barkhad Abdi, Helen Mirren, Iain Glen, Jeremy Northam, Kim Engelbrecht, Phoebe Fox
Director: Gavin Hood
Through remote surveillance and on-the-ground intel, Colonel Katherine Powell (Helen Mirren), a UK-based military officer in command of a top secret drone operation to capture terrorists in Kenya discovers the targets are planning a suicide bombing and the mission escalates from "capture" to "kill." But as American pilot Steve Watts (Aaron Paul) is about to engage, a nine-year old girl enters the kill zone triggering an international dispute, reaching the highest levels of US and British government, over the moral, political, and personal implications of modern warfare.
What the critics are saying:
Charlotte Observer, Lawrence Toppman
In a world full of recyclable superheroes and mindless "empowerment" comedies, we're finally getting a movie about reality. We're surrounded by surveillance and the threat of violence, and this film asks us to judge the proper balance between liberty and security – and the amount of collateral damage acceptable to maintain the latter.
Variety, Joe Leydon
A rivetingly suspenseful drama that deftly intertwines elements of ticking-clock thriller and tragic farce.
Tampa Bay Times, Steve Persall
Eye in the Sky remains gripping even when Hibbert tosses in one or two side-taking circumstances too many.
Film Prices:
General: $10.00
Seniors, Students and Active Military: $9.00
Members: $8.00
Children 12 and under: $7.00
Sunday Bargain Prices:
General: $8.00
Members: $6.00
Children 12 and under: $5.00
Add $2.00 to the above prices for 3D screenings.
Your membership with the Lincoln Theatre saves you $2.00 per film ticket.
*All prices include a $1.50 Preservation Fee that goes directly into our capital account for preservation of the Lincoln Theatre and its programs. Film tickets are only available at the door beginning 45 minutes before the first screening of the day. This saves you, the ticket buyer the fees associated with purchasing online. Never fear – there are plenty of seats!
Monday film screenings are part of the Lincoln Theatre Member Mondays! Click here http://www.lincolntheatre.org/benefits-membership for details.
Film dates and times are subject to change and extended runs. Please check back here, or our phone message at 360.336.8955, day of show.