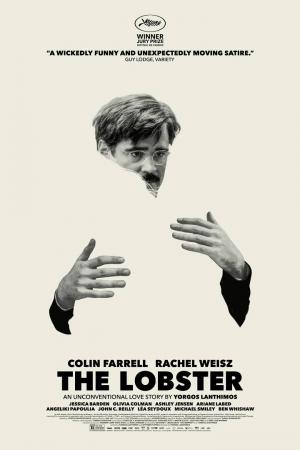 Saturday, Jul 16, 7:30 pm
Colin Farrell stars as David, a man who has just been dumped by his wife. To make matters worse, David lives in a society where single people have 45 days to find true love, or else they are turned into the animal of their choice and released into the woods. David is kept at the mysterious hotel while he searches for a new partner, and after several romantic misadventures decides to make a daring escape to abandon this world.
 
Starring: Colin Farrell, Jessica Barden, Olivia Colman, and Rachel Weisz
 
Director: Giorgos Lanthimos
 
At the Wurlitzer:
 
Saturday, July 16th; Harvey Rossiter 
 
Sunday, July 17th; Glen Des Jardins 
 
What the critics are saying:
 
Tampa Bay Times, Steve Persall
 
The Lobster remains strangely romantic throughout, an absurdist take on the notion that great love stories — Casablanca, The Way We Were, Gone With the Wind — don't always end tidily.
 
The Playlist, Oliver Lyttelton
 
In the end, all the strangeness adds up towards something genuinely significant: an atypically rich and substantial comedy that's stuffed with great scenes and performances even before you start to chew on its bigger questions.
 
Village Voice, Michael Nordine
 
Lanthimos's consistently hilarious, borderline anti-humor slowly gives way to a romantic streak of surprising warmth.
 
Film Prices:
 
General: $10.00
Seniors, Students and Active Military: $9.00
Members: $8.00
Children 12 and under: $7.00
 
Sunday Bargain Prices:
 
General: $8.00
Members: $6.00
Children 12 and under: $5.00
 
Add $2.00 to the above prices for 3D screen
 
Your membership with the Lincoln Theatre saves you $2.00 per film ticket.
 
*All prices include a $1.50 Preservation Fee that goes directly into our capital account for preservation of the Lincoln Theatre and its programs. Film tickets are only available at the door beginning 45 minutes before the first screening of the day. This saves you, the ticket buyer the fees associated with purchasing online. Never fear – there are plenty of seats!
 
Members have benefits: Click here for details.
 
Film dates and times are subject to change and extended runs. Please check back here, or our phone message at 360.336.8955, day of show.