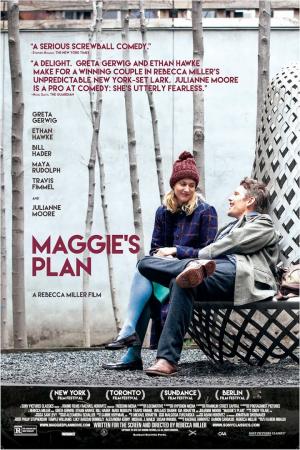 Saturday, Jul 23, 7:30 pm
Maggie Hardin (Greta Gerwig) is a vibrant and practical thirty-something New Yorker working in education, who without success in finding love, decides now is the time to have a child on her own. But when she meets John Harding (Ethan Hawke), an anthropology professor and struggling novelist, Maggie falls in love for the first time, and adjusts her plans for motherhood. Complicating matters, John is in an unhappy marriage with Georgette Harding (Julianne Moore), an ambitious academic who is driven by her work. With some help from Maggie's best friends, married couple Tony (Bill Hader) and Felicia (Maya Rudolph), Maggie sets in motion a new plan that intertwines their lives and connects them in surprising and humorous ways. Maggie learns that sometimes destiny should be left to its own devices.
 
Starring: Bill Hader, Ethan Hawke, Greta Gerwig, Julianne Moore, Maya Rudolph, and Travis Fimmel
 
Director: Rebecca Miller
 
What the critics are saying:
 
The Film Stage, Dan Mecca
 
Miller's New York, full of academics who still have the capacity to act like children, isn't exactly new, but plenty fascinating.
 
Chicago Sun-Times, Richard Roeper
 
It's a fine brew, equal parts cynical and whimsical, dark and sunny. It's fairly slight but nearly great.
 
Empire, Jimi Famurewa
 
A perfectly cast comedy of manners that couches complex emotional questions in joyous farce and continues Gerwig's reign as the undisputed Queen Of Quirk.
 
TheWrap, Sam Adams
 
Like any artist, Miller has the right to reinvent herself, but we don't need one more director of winsome, Sundance-ready rom-coms. That said, as winsome,
 
Film Prices:
 
General: $10.00
Seniors, Students and Active Military: $9.00
Members: $8.00
Children 12 and under: $7.00
 
Sunday Bargain Prices:
 
General: $8.00
Members: $6.00
Children 12 and under: $5.00
 
Add $2.00 to the above prices for 3D screen Your membership with the Lincoln Theatre saves you $2.00 per film ticket.
 
*All prices include a $1.50 Preservation Fee that goes directly into our capital account for preservation of the Lincoln Theatre and its programs.
 
Film tickets are only available at the door beginning 45 minutes before the first screening of the day. This saves you, the ticket buyer the fees associated with purchasing online. Never fear – there are plenty of seats!
 
Members have benefits: Click here for details.
 
Film dates and times are subject to change and extended runs. Please check back here, or our phone message at 360.336.8955, day of show.