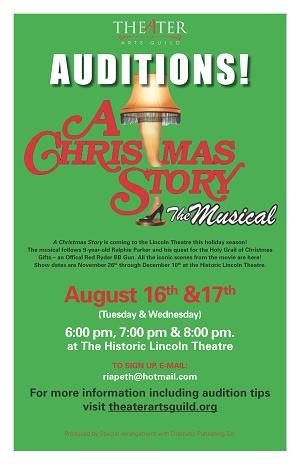 Tuesday, August 16, 2016 - 6:00pm
Wednesday, August 17, 2016 - 6:00pm
A Christmas Story Auditions
Time to get excited because… A Christmas Story is coming to Skagit Valley!! Show dates are November 26th through December 10th at the Historic Lincoln Theatre! Come be a part of this fun, hilarious, and heartwarming musical!
 
AUDITIONS: Auditions will be held Tuesday and Wednesday, August 16th and 17th at the Historic Lincoln Theatre. There will be three (3) audition groups each night, at 6:00, 7:00 and 8:00 pm. You may sign up for whichever date and time is most convenient for you and your family. To sign up for auditions emailriapeth@hotmail.com and specify which day and time you'd like to audition. Please arrive at least 15 minutes early to allow ample time for check in! Please bring a completed audition form to the audition. Click here for audition form.
 
CALLBACKS: Some (but not all) auditioners may be called back for followup auditions on Saturday, August 20th at the Skagit Unitarian Universalist Church from noon to 3 pm. Whether or not you are called back has NO bearing on whether you will be cast. Being called back does not mean you are getting a role, and NOT being called back doesn't mean you are NOT getting a role. Callbacks are simply necessary when the directors want to hear someone a second time, or when they want to see how a person looks and/or sounds with certain other people. YOU DO NOT NEED TO PREPARE ANYTHING FOR CALLBACK AUDITIONS.
 
A NOTE ABOUT AUDITIONS
Theater Arts Guild auditions are exciting, fun and educational. We work hard to create a supportive and enjoyable atmosphere for everyone. If you've never auditioned before, this is the place to start. We will lead you through the process from the moment you arrive, so don't worry!! If you are a youngster, your parent and/or guardian may accompany you through the entire process. (All TAG auditions are open; parents, etc may be present during your audition.)
 
THE AUDITION FORMAT
Please arrive at least 15 minutes earlier than your reserved time to allow ample time for check in! When you arrive at the audition you'll be asked to have your picture taken. Then your group (up to 20 people) will come into the audition room together for a brief welcome. Everyone will then come up on "stage" and learn a short dance routine. After that, each of you will come up individually and sing your song and deliver your monologue.
 
PREPARATION
Please come prepared with:
 
1) Song of your own choosing. Pick a song that shows off your talent and your special vocal gifts! Bring sheet music (we will have an accompanist for you); or bring your own accompanist. You may also sing with a CD or iPod as long as it is instrumental only; we don't want to hear you try to sing over another artist! You may also sing without any accompaniment at all if you prefer.
 
 
2) Instead of a traditional monologue, we want to keep it lighthearted and would like you to tell us a joke or a funny story. 1 minute maximum. Again, pick something that shows off your talent. This is a funny show, so we want to see that part of you! Feel free to pick from a movie, a play, a poem, a story, or even something you have written.
 
After your audition you are welcome to stay and watch other groups if you wish.
 
More information regarding auditions will be updated here as things arise. Most importantly, get the date on your calendar and get excited for a fun show!