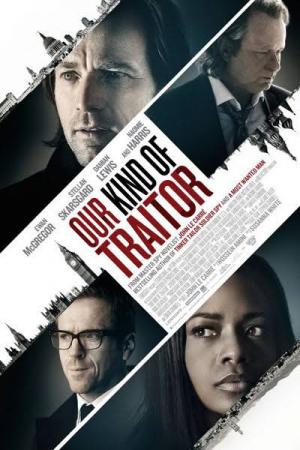 While on holiday in Marrakech, an ordinary English couple, Perry (Ewan McGregor) and Gail (Naomie Harris), befriend a flamboyant and charismatic Russian, Dima (Stellan Skarsgård), who unbeknownst to them is a kingpin money launderer for the Russian mafia. When Dima asks for their help to deliver classified information to the British Secret Services, Perry and Gail get caught in a dangerous world of international espionage and dirty politics. The couple is propelled on a perilous journey through Paris and Bern, a safe house in the French Alps, to the murky corners of the City of London and an alliance with the British Government via a ruthless and determined MI6 agent (Damian Lewis).
Director: Susanna White
 
On the Mighty Wurlitzer:
 
Friday, August 5th Harvey Rossiter
Sunday, August 7th Fred Beeks
Saturday, August 8th Fred Beeks
 
What the critics say:
 
Arizona Republic, Andy Cordova
 
Director Susanna White keeps things low-key and absorbing, as the action moves from Marrakesh to London to Paris to Switzerland.
 
Time Out London, Dave Calhoun
 
Once you get past some bumps in the road of believability, Our Kind of Traitor turns into a brisk, energetic drama, with Anthony Dod Mantle's photography adding interesting layers to a fairly straightforward plot.
 
Slant Magazine, Oleg Ivanov
 
It works as both a modern morality play for our globalized world and as an indictment of Europe's ethical bankruptcy.
 
Film Prices: General: $10.00
Seniors, Students and Active Military: $9.00
Members: $8.00
Children 12 and under: $7.00
 
Sunday Bargain Prices:
 
General: $8.00
Members: $6.00
Children 12 and under: $5.00
 
Add $2.00 to the above prices for 3D screen Your membership with the Lincoln Theatre saves you $2.00 per film ticket.
 
*All prices include a $1.50 Preservation Fee that goes directly into our capital account for preservation of the Lincoln Theatre and its programs. Film tickets are only available at the door beginning 45 minutes before the first screening of the day. This saves you, the ticket buyer the fees associated with purchasing online. Never fear – there are plenty of seats!
 
Members have benefits: Click here for details.
 
Film dates and times are subject to change and extended runs. Please check back here, or our phone message at 360.336.8955, day of show.