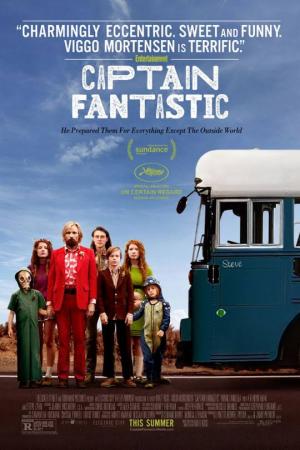 In the forests of the Pacific Northwest, a father (Viggo Mortensen) devoted to raising his six kids with a rigorous physical and intellectual education is forced to leave his paradise and enter the world, challenging his idea of what it means to be a parent.
Starring: Annalise Basso, Charlie Shotwell, Frank Langella, George MacKay, Kathryn Hahn, Nicholas Hamilton, Samantha Isler, Shree Crooks, Trin Miller, Viggo Mortensen
Director: Matt Ross
What the critics say:
Washington Post, Ann Hornaday
Captain Fantastic leaves viewers with the cheering, deeply affecting image of a dad whose superpowers lie in simply doing the best that he can.
New York Observer, Rex Reed
Despite a frustrating fizzle of a finale, it's a movie that enthralls the senses and engages the mind for two hours, proving no movie is too long when you're having fun.
Charlotte Observer, Lawrence Toppman
Mortensen has been ideally cast. He's at his best playing fanatics, obsessives, people beyond the norm who can't find their place in a quiet world.
New York Daily News, Stephen Whitty
Gorgeously photographed, and as loosey-goosey as its hero, Captain Fantastic takes some unexpected turns. Is Ben eccentric or irresponsible? Is he raising free-thinking iconoclasts — or training a new generation of Unabombers?
Austin Chronicle, Steve Davis
For a while, the freeing experience of the clan's nonconformity gets tamped down, and the movie appears headed toward some kind of moralized conclusion. Once back on familiar ground, however, Captain Fantastic rights itself toward as happy an ending as possible, without too much compromise.
Film Prices:
General: $10.00
Seniors, Students and Active Military: $9.00
Members: $8.00
Children 12 and under: $7.00
Sunday Bargain Prices:
General: $8.00
Members: $6.00
Children 12 and under: $5.00
Add $2.00 to the above prices for 3D screen
Your membership with the Lincoln Theatre saves you $2.00 per film ticket.
*All prices include a $1.50 Preservation Fee that goes directly into our capital account for preservation of the Lincoln Theatre and its programs. Film tickets are only available at the door beginning 45 minutes before the first screening of the day. This saves you, the ticket buyer the fees associated with purchasing online. Never fear – there are plenty of seats!
Members have benefits: Click here http://www.lincolntheatre.org/benefits-membership for details.
Film dates and times are subject to change and extended runs. Please check back here, or our phone message at 360.336.8955, day of show.