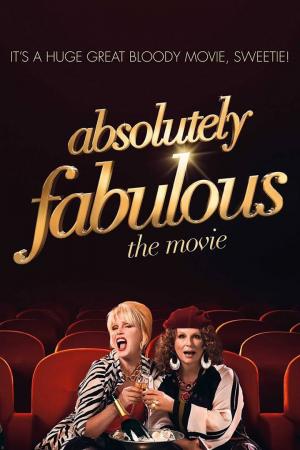 Edina and Patsy are still oozing glitz and glamor, living the high life they are accustomed to; shopping, drinking and clubbing their way around London's trendiest hot-spots. Blamed for a major incident at an uber fashionable launch party, they become entangled in a media storm and are relentlessly pursued by the paparazzi. Fleeing penniless to the glamorous playground of the super-rich, the French Riviera, they hatch a plan to make their escape permanent and live the high life forever more!
 
Champagne in the Art Bar on Friday Night! 
 
Starring: Jane Horrocks, Jennifer Saunders, Joanna Lumley, and Julia Sawalha
 
Director: Mandie Fletcher
 
On the Mighty Wurlitzer:
 
Friday Sep 9th  Harvey Rossiter
Sunday Sep 11th  Glen Des Jardin
Monday Sep 12th Fred Beeks
 
What the critics say:
 
indieWIRE, Jude Dry
 
"Absolutely Fabulous" captures the irreverent fun of the series using an appropriately absurd plot device and does not read like a tired excuse to put the characters back in a room together.
The A.V. Club, Katie Rife
 
Overall Absolutely Fabulous: The Movie is as shallow as a puddle of Dom Pérignon spilled on the bow of a luxury yacht. That's the joke, you see.
RogerEbert.com, Nick Allen
 
It's more fulfilling to the soul than appetite, but the indulgence — if not the brief escape — is an inestimable perk.
 
Film Prices:
 
General: $10.00
Seniors, Students and Active Military: $9.00
Members: $8.00 Children 12 and under: $7.00
 
Sunday Bargain Prices:
General: $8.00
Members: $6.00
Children 12 and under: $5.00
 
Add $2.00 to the above prices for 3D screenimgs.  
 
Your membership with the Lincoln Theatre saves you $2.00 per film ticket.
 
*All prices include a $1.50 Preservation Fee that goes directly into our capital account for preservation of the Lincoln Theatre and its programs.
 
Film tickets are only available at the door beginning 45 minutes before the first screening of the day. This saves you, the ticket buyer the fees associated with purchasing online. Never fear – there are plenty of seats!
 
Members have benefits: Click here for details.
 
Film dates and times are subject to change and extended runs. Please check back here, or our phone message at 360.336.8955, day of show.