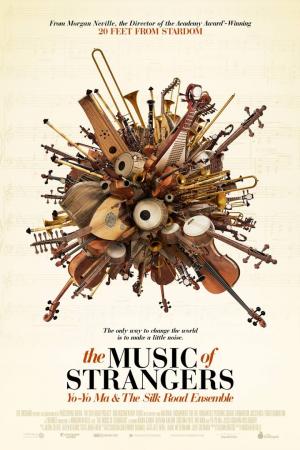 Saturday, Sep 17, 7:30 pm
Over the past 16 years, an extraordinary group of musicians has come together to celebrate the universal power of music. Named for the ancient trade route linking Asia, Africa and Europe, The Silk Road Ensemble, an international collective created by acclaimed cellist Yo-Yo Ma, exemplifies music's ability to blur geographical boundaries, blend disparate cultures and inspire hope for both artists and audiences. The Music of Strangers: Yo-Yo Ma and the Silk Road Ensemble follows an ever-changing lineup of performers drawn from the ensemble's more than 50 instrumentalists, vocalists, composers, arrangers, visual artists and storytellers as they gather in locations across the world, exploring the ways art can both preserve traditions and shape cultural evolution.
Director: Morgan Neville
 
At the Mighty Wurlitzer:
 
Friday: Fred Beeks
Saturday: Harvey Rossiter
Sunday: Glen Des Jardins
Monday: Nick Nicolai
 
What the critics say:
 
Christian Science Monitor
Peter Rainer
 
The film's most joyous performer is the bagpiper Cristina Pato, known as "the Jimi Hendrix of Galicia," who is such a powerhouse that she could probably upstage the Rolling Stones (in their prime).
 
The Seattle Times
Moira Macdonald
 
By the end, you look at the musician's faces — particularly Ma's beaming smile — and find a truth: through music, we can always find our way home.
 
Arizona Republic
Bill Goodykoontz
 
The music and the group are uplifting. The stories are inspiring.
 
Film Prices:
 
General: $10.00
Seniors, Students and Active Military: $9.00
Members: $8.00
Children 12 and under: $7.00
 
Sunday Bargain Prices:
 
General: $8.00
Members: $6.00
Children 12 and under: $5.00
 
Add $2.00 to the above prices for 3D screenIings.  
 
Your membership with the Lincoln Theatre saves you $2.00 per film ticket.
 
*All prices include a $1.50 Preservation Fee that goes directly into our capital account for the preservation of the Lincoln Theatre and its programs.
 
Film tickets are only available at the door beginning 45 minutes before the first screening of the day. This saves you, the ticket buyer the fees associated with purchasing online. Never fear – there are plenty of seats!
 
Members have benefits: Click here  for details.
 
Film dates and times are subject to change and extended runs. Please check back here, or our phone message at 360.336.8955, day of show.