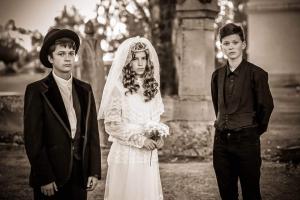 Friday, October 28, 2016 - 7:30pm
Saturday, October 29, 2016 - 2:00pm
Sunday, October 30, 2016 - 2:00pm
Thursday, November 3, 2016 - 7:30pm
Friday, November 4, 2016 - 7:30pm
Saturday, November 5, 2016 - 7:30pm
Sunday, November 6, 2016 - 2:00pm
Friday, November 11, 2016 - 7:30pm
Saturday, November 12, 2016 - 7:30pm
Thursday, November 3 is pay-what-you-can night. Tickets available at-the-door only!
Advance tickets: $15 in preferred seating area, $12 general seating, plus applicable fees. Preferred seating area will not be available at-the-door
Presented by META Performing Arts.
Our Town is a 1938 metatheatrical three-act play by American playwright Thornton Wilder. It tells the story of the fictional American small town of Grover's Corners between 1901 and 1913 through the everyday lives of its citizens.
 Throughout, Wilder uses metatheatrical devices, setting the play in the actual theatre where it is being performed. The main character is the stage manager of the theatre who directly addresses the audience, brings in guest lecturers, fields questions from the audience, and fills in playing some of the roles. The play is performed without a set on a mostly bare stage. With a few exceptions, the actors mime actions without the use of props.