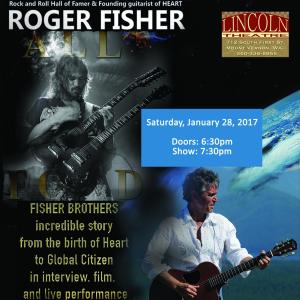 Saturday, January 28, 2017 - 7:30pm
Advance Festival Seating Tickets: $20 and $30
FOREST RAIN Album Release
And 40th Anniversary of Heart's "Little Queen"
 
Roger and Michael Fisher are hosting a unique party/concert/movie/Q&A/ meet & greet experience celebrating the 40th anniversary of the release of Heart's second album Little Queen and Michael and Roger's much anticipated ALL TOLD album release and previews of their next album, FOREST RAIN.
 
Heart released Little Queen in 1977. Along with the album's namesake hit song, this album included the additional iconic mega hit Barracuda.
This January 28th, the public is invited to join Roger and Michael, up close and personal and be part of a multi-media party/concert that includes a Heart performance from 1978, Rog and friends LIVE, combined with the soundtrack and movies from the new work, ALL TOLD.
The new album draws on the songwriting talents of Roger going back 40 years and shows the personal and artistic growth and passionate thrust in the direction of the development of a sustainable global community. All Told is the first in a series of works of the One Vision Project. 
 
Doors open at 6:30pm
 
*ALL TOLD CDs and t-shirts and swag available, buy yours and get it signed!