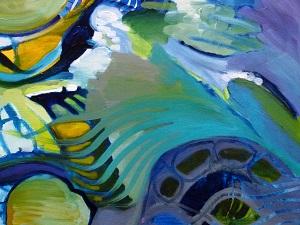 Deirdre Czoberek grew up in a household full of artists, and that strong influence guided her toward a career in the arts. She completed her BFA in painting in the early nineties at the University of Washington, then worked to pursue any possible employment connected with the arts.
 
After having her first child, Deirdre and her husband moved to Skagit County where she applied her creativity while working to restore their historic home in Mount Vernon.
 
Deirdre's desire to express herself through art and use her talent to reach out to the community was renewed as time and opportunity allowed. She is now happily employed as a teaching artist in Skagit and Whatcom counties.
 
Deirdre finds her natural surroundings most inspiring and engaging.  While observing the interesting shapes and textures in the soft beauty of the Northwest landscape, she often finds that inspiration flowing out from her brush and onto the painting surface. At the same time, her work is purely spontaneous, relying on the inter-relationships of color and form to create the ambience in her paintings. From one traveling line on the paper, Deirdre creates her own universe of luminous colors and organic shapes.
 
Please contact her at:
dczo@yahoo.com
czoart.com
or on her facebook artist page.
 
 
Artist reception December 2, 5:30 to 7:30