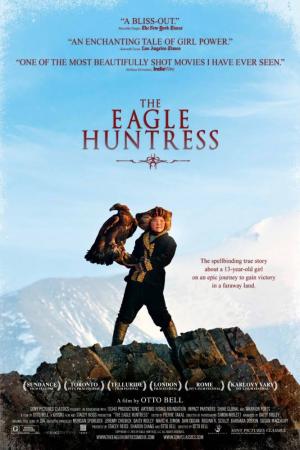 THE EAGLE HUNTRESS follows Aisholpan, a 13-year-old girl, as she trains to become the first female in twelve generations of her Kazakh family to become an eagle hunter, and rises to the pinnacle of a tradition that has been handed down from father to son for centuries. Set against the breath-taking expanse of the Mongolian steppe, THE EAGLE HUNTRESS features some of the most awe-inspiring cinematography ever captured in a documentary, giving this intimate tale of a young girl's quest the dramatic force of an epic narrative film. While there are many old Kazakh eagle hunters who vehemently reject the idea of any female taking part in their ancient tradition, Aisholpan's father Nurgaiv believes that a girl can do anything a boy can, as long as she's determined. The story begins after Aisholpan has been training with her father's eagle for many months. 
As every eagle can only have one master, the time has come for Aisholpan to capture an eagle of her own. Clambering down a sheer rock cliff with a rope, Aisholpan retrieves a fledgling eagle from its nest as its mother circles overhead. Her eagle will live, train, and hunt with her, until she releases it into the wild years later, so the cycle of life can continue. After months of training her eagle with her father, Aisholpan is ready to test her abilities. She enters a renowned competition, the Golden Eagle Festival, and faces off against 70 of the greatest Kazakh eagle hunters in Mongolia. The most arduous challenge is yet to come, as the rite-of-passage for every young eagle hunter is to take part in a hunt. Aisholpan must ride with her father deep into the frigid mountains and endure 40 below zero temperatures and perilous landscapes to prove she is a true eagle huntress. 
 
THE EAGLE HUNTRESS is executive produced and narrated by STAR WARS's Daisy Ridley. Like Ridley's character "Rey," Aisholpan never doubts her ability to be as strong or brave as any boy. She recognizes no obstacles and refuses to have her ambition denied. While she practices an ancient art, Aisholpan's story is a modern and inspiring one because she represents a world where a young girl's dreams-no matter how challenging-can come true. 
   
Director: Otto Bell
   
Rating: G
 
Runtime: 87 min
 
Language: Kazakh with English Narration
 
What the critics are saying:
 
Certified Fresh on Rotten Tomatoes
 
There are numerous thrilling sights to behold.
 
John Harlt, Seattle Times
 
The outline of a modern feminist epic is always there in the background. What's surprising is how fresh and charming the movie manages to be.
 
Aline O'Conner, Sunday Independent
 
It's interesting, beautiful and Aisholpan and her dad are so sweet that it makes for lovely viewing.
 
Film Prices:
 
General: $10.00
Seniors, Students and Active Military: $9.00
Members: $8.00
Children 12 and under: $7.00
 
Sunday Bargain Prices:
 
General: $8.00
Members: $6.00
Children 12 and under: $5.00
 
Add $2.00 to the above prices for 3D screen
 
Your membership with the Lincoln Theatre saves you $2.00 per film ticket.
 
*All prices include a $1.50 Preservation Fee that goes directly into our capital account for preservation of the Lincoln Theatre and its programs. Film tickets are only available at the door beginning 45 minutes before the first screening of the day. This saves you, the ticket buyer the fees associated with purchasing online. Never fear – there are plenty of seats!
 
Members have benefits: Click here for details.
 
Film dates and times are subject to change and extended runs. Please check back here, or our phone message at 360.336.8955, day of show.