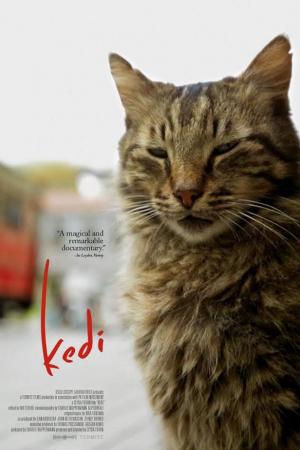 Saturday, Apr 22, 7:30 pm
Hundreds of thousands of Turkish cats roam the metropolis of Istanbul freely. For thousands of years they've wandered in and out of people's lives, becoming an essential part of the communities that make the city so rich. Claiming no owners, the cats of Istanbul live between two worlds, neither wild nor tame — and they bring joy and purpose to those people they choose to adopt. In Istanbul, cats are the mirrors to the people, allowing them to reflect on their lives in ways nothing else could. Critics and internet cats agree — this cat documentary will charm its way into your heart and home as you fall in love with the cats in Istanbul. 
Director:  Ceyda Torun
What the critics are saying:
Certified Fresh on Rotten Tomatoes (97%)
Kedi is a cat fancier's dream, but this thoughtful, beautifully filmed look at Istanbul's street feline population offers absorbing viewing for filmgoers of any purr-suasion.
Adam Graham, Detroit News
"Kedi" is the cat's meow. Literally.
Ken Eisner, Georgia Straight
"Kedi" explores whole Istanbul neighbourhoods and finds a delightfully symbiotic relationship between these titular nonpets and their special humans.
Entertainment Weekly, Leah Greenblatt
Film Prices:
General: $10.00
Seniors, Students and Active Military: $9.00
Members: $8.00
Children 12 and under: $7.00
Sunday Bargain Prices:
General: $8.00
Members: $6.00
Children 12 and under: $5.00
Add $2.00 to the above prices for 3D screen
Your membership with the Lincoln Theatre saves you $2.00 per film ticket.
*All prices include a $1.50 Preservation Fee that goes directly into our capital account for preservation of the 
Lincoln Theatre and its programs. Film tickets are only available at the door beginning 45 minutes before the first screening of the day. This saves you, the ticket buyer the fees associated with purchasing online. Never fear – there are plenty of seats!
Members have benefits: Click here for details.
Film dates and times are subject to change and extended runs. Please check back here, or our phone message at 360.336.8955, day of show.