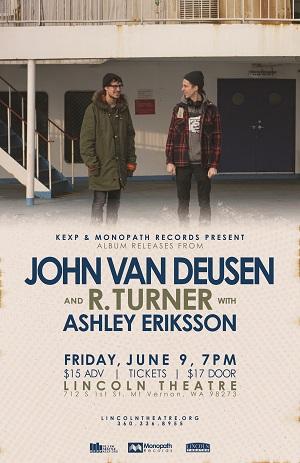 Friday, June 9, 2017 - 7:00pm
Advance Festival Seating Tickets: $15 adults; Day or Show: $17, + applicable fees.
On June 9th, come enjoy an evening of powerful local music as KEXP and Anacortes' own Monopath Records team up to celebrate two releases in one evening.
Notable Skagit Valley songwriter John Van Deusen, formerly of The Lonely Forest, will release his hooky debut solo album, The Universal Sigh.
R. Turner, who recently migrated west from New York will also be releasing his new self-titled album of unique and dynamic songs.
Opening the show is beloved K Records recording artist and Whidbey Island native Ashley Eriksson.