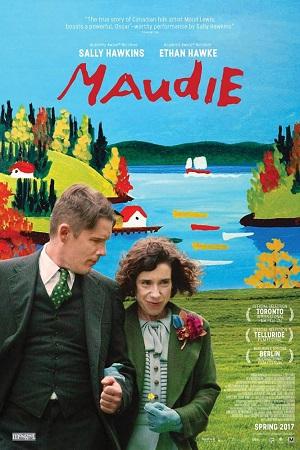 MAUDIE, based on a true story, is an unlikely romance in which the reclusive Everett Lewis (Ethan Hawke) hires a fragile yet determined woman named Maudie (Sally Hawkins) to be his housekeeper. Maudie, bright-eyed but hunched with crippled hands, yearns to be independent, to live away from her protective family and she also yearns, passionately, to create art. Unexpectedly, Everett finds himself falling in love. MAUDIE charts Everett's efforts to protect himself from being hurt, Maudie's deep and abiding love for this difficult man and her surprising rise to fame as a folk painter.
Director: Aisling Walsh
Starring: Sally Hawkins, Ethan Hawke, Kari Matchett, Gabrielle Rose, and Zachary Bennett.
What the critcis say:
Boston Globe, Peter Keough
The story offers many opportunities for glibness and sentimentality. Walsh falls for none of them. She enhances the grimness of Lewis's surroundings, but does not exploit it.
New York Observer,Thelma Adams
A gorgeous color palette and a tactile sensitivity to the emotions and intelligence of rural people help to create an organic work that integrates brilliant casting, yummy production and costume design, and fine cinematography.
St. Louis Post-Dispatch, Calvin Wilson
Maudie is a work of art.
Film Prices:
Lincoln Theatre Members get a $2 discount on the following prices:
General: $10.50
Seniors, Students and Active Military: $9.50
Children 12 and under: $8.00
Sunday Bargain Prices:
General: $9.00
Children 12 and under: $7.50
Add $2.00 to the above prices for 3D screenings
*All prices include a $1.50 Preservation Fee that goes directly into our capital account for preservation of the Lincoln Theatre and its programs.
 
Members have benefits: Click here http://www.lincolntheatre.org/benefits-membership for details.