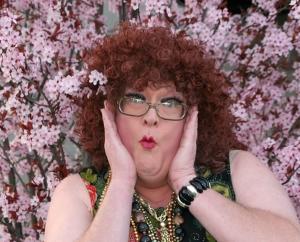 Friday, November 17, 2017 - 7:30pm
Advanced Reserved Seating Tickets: $20 + applicable fees. Lincoln Theatre Members receive $2 off.
Betty Desire, a character developed by Matt Endrizzi, has been entertaining audiences in and around the Pacific Northwest for over 22 years. A proud and home grown Mount Vernonite, she graduated from Mount Vernon High School in 1973.  Her singing and audience banter have delighted many over the years.
A tireless warrior for equality and inclusion she has used humor and innuendo to break down barriers and walls. In her spare time she publishes The Betty Pages, Cascadia's most inclusive alternative lifestyle tabloid and assists every Halloween at the  Lincoln Theater's showing of The Rocky Horror Picture Show. (someone must sacrifice the virgins) from fire and brimstone to fabulous drag queen her life has been a myriad opposites punctuated with compassion and joy. Betty will be accompanied by a live quartet led by TJ Anderson.
Thank you to Hair and Body Mechanix for their sponsorship with help from Skagit/Whatcom PFLAG and SVC's Rainbow Alliance!