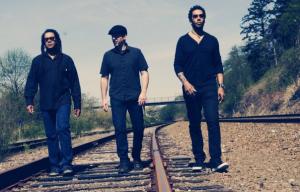 In three short years singer/songwriter LeRoy Bell has built a reputation and a national fan base that eagerly awaits the release of his first full length CD, TWO SIDES TO EVERY STORY. The sonic stratification of multiple guitars, strings, percussion and bass, provide the lushlayers and textures that allow Bells earthy, soulful voice to whisper and soar with emotion. The honesty of his voice and lyrics makes you feel as if each song is being sung directly to each listener.
Also featured on  TWO SIDES TO EVERY STORY are His Only Friends , Bells trusty band of veteran musicians. The soaring cello played by Phil Peterson is a familiar element in LeRoys non-traditional sound. Guitar virtuoso Rick Novito , adds an uncommon approach to texture and lyrical statements ranging from folk, to jazz & rock. The heartbeat of the music is the dynamic, funky bass of Terry Morgan , paired with incredibly rhythmic pulsations of LeRoy Bell on drums, guitar, banjo,accordion and miscellaneous percussion. Multi-cultural percussionist Stan White , adds a world beat perspective to Bells impassioned vocals and melodies, completing the sound.
LeRoys first passion as a drummer gives his guitar playing a unique position in his music. Its the basis of all of the songs providing the constant background of passion and soul for his music. Its a rare case when the synergy of melody and lyrics meld together to form the soundtrack of a mental screenplay.
This knack for artful songwriting has a vivid history. As half of the youthful songwriting team Bell &James , Casey James and LeRoy Bell are the authors of Elton John's Grammy-nominated 1979 Top Ten hit, "Mama Can't Buy You Love," and Eltons 2004 #1 British single Are You Ready For Love.  Bell and James also attained top ten status with the dance hit, Livin It Up Friday Night.
For LeRoy writing became the main focus over performing allowing him to collaborate with legendary songwriter/producer Thom Bell (his uncle) and Casey James penning songs for The Spinners, The OJays, Rita Marley, The Temptations, Johnny Mathis, Phyllis Hyman and many more.
Only recently has LeRoy surfaced as the singer/songwriter he is today. Gaining early acceptanceand warm reception, he has recently performed with B.B. King, Al Green,  Taj Mahal, Jackie Green, Keb Mo, LeAnn Rimes, The Temptations, The OJays,  Mavis Staples, Colin Hay, Leon Russell, Sonny Landreth, Kenny Loggins, The Young Dubliners and others.
 
This is a Toys for Tots benefit. Please consider bringing an unwrapped gift.
Notes
This special concert is a Toys for Tots benefit