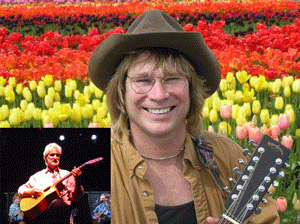 Saturday, April 17, 2010 - 4:00pm
Saturday, April 17, 2010 - 7:30pm
$27/$22/$17 (7:30PM reserved seating show) $6/$3 (4:00PM Family/Education show)
7:30 show Reserved Seating - 4:00 show Festival seating
Two Great John Denver Tribute Shows!
Join the amazing Ted Vigil along with multi-talented Steve Weisberg as they join together for the first time at our very own Lincoln Theatre! This will be a not to miss event held during one of our most festive events – the Mount Vernon Street Fair!
At 4pm gather the kids and come on out for a fun filled time with Ted and Steve as they share songs and talk about one of John Denver's passions – taking care of our environment! This family friendly event will be one of those "family memories" that you will share for years to come!
At 7:30 we will be hosting an adult show at the Lincoln. (Of course you can bring children if you like!). Steve will be sharing John Denver stories on the road while Ted and Steve sing all of the favorites. This exciting night will get even better as they are joined with local musicians and singers. "Country Roads" and "Good To Be Back Home Again" will sound AMAZING performed with our great local talent!
And if that was not enough, check out goskagit.com on their Tulip Photo Contest Page for information on how to enter into one of the most thrilling happenings around these parts in a very long time! Enter to win a serenade with Steve and Ted during "Annie's Song," backstage before the show, 2 front row tickets, special surprises and over $1,000 in gift certificates from local merchants! Contest starts March 26th.
The Lincoln Theatre is your hot ticket to fun in Skagit Valley. Come out and see what you have been missing!
About Steve & Ted:
Steve Weisberg played lead guitar, dobro, pedal steel, and was a contributing songwriter on John Denver's Greatest Hits, Volume 1, Back Home Again, An Evening With John Denver, Rocky Mountain Christmas, Windsong, Spirit, and John Denver's Greatest Hits, Volume 2.  He played on all John's tours and TV shows as well, in what must be considered John Denver's most successful era. He also has co-written, recorded, or been featured guest with Michael Martin Murphey, Jose Feliciano, The Nitty Gritty Dirt Band, Billie Joe Shaver, Steve Fromholz, Ray Wiley Hubbard (Ringo's favorite album), Delbert McClinton, and Willie Nelson, to name a few.
Rising Star Ted Vigil was raised in the Seattle area. He has been performing since the age of ten. Throughout school Ted played in concert, symphonic, and jazz bands developing his talents as a drummer and singer. In 2006 he went on to Laughlin, NV to compete in the Talent Quest '06 competition involving 28 states, New Zealand, Australia, and Canada taking first place. He then went on to win KOMO TV' 4's N.W. Afternoon Celebrity Look Alike Contest.
In just a very short time Ted has developed into a national act. He performs all over the country at casinos, show rooms, night clubs, fraternal clubs, private parities, fairs and festivals. Some of the venues include the Broadmoor Hotel, Colorado Springs and the Four Seasons Resort, Dallas TX.
This year has been especially fun for Ted. Not only is he playing with Steve Weisberg for the first time, but in January he spent the weekend in Skagit County songwriting with Eddie Kilgallon, keyboard player / producer / writer with country music group Montgomery Gentry. Later this year Ted will be playing at Storme Warren's Nashville Navy Party during Fan Fair (CMA Festival) in Nashville, TN, Cruising the Caribbean with Darryl Worley and Blake Gray on a Travelin' Inc Country Cruise (travelininc.com) and back out to the John Denver Festival in Aspen in October.
 
The most heard comments after the show are, "I can't believe how much he looks and sounds like John Denver, it really took us back!"
More updates at tedvigil.com, ted vigil (ted vigil) facebook or Donna Backman, backmanmarketing@comcast.net