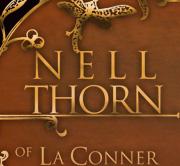 Long time supporters Nell Thorn of La Conner invites all members and friends of the Lincoln Theatre and, indeed, all of Skagit County and beyond, to join in supporting the Lincoln Theatre. Nell Thorn will donate 15% of all gross sales for Monday, July 9, to the Lincoln. Nell Thorn, undoubtedly one of the finest restaurants in Skagit County, is a locally owned brick-and-mortar business employing local people, buying locally sourced goods and services, paying local taxes, and generally supporting the local community. Nell Thorn recognizes the importance of the Lincoln Theatre and is pleased to express its support in tangible terms.
 
The Lincoln Theatre has the bold mission of entertaining, informing and inspiring the diverse Skagit County community through cinema, live performance and educational programs. The Lincoln Theatre Center Foundation is a non-profit organization with a very small, highly dedicated staff, a large body of invaluable volunteers and an intensely loyal membership of 1,000 or so mostly Skagitonians committed to preserving the historic Lincoln Theatre. Located in downtown Mount Vernon, the Lincoln Theatre is a cultural cornerstone serving all of Skagit County. We greatly appreciate the support of local businesses and encourage you to support them, in turn.
 
And now a few words from Nell Thorn: For our small family, inspiration starts with intent, care & love. These qualities embody the planting of a seed that in time bears a delicious food. We carefully and responsibly take creatures from the ocean and find animals that are humanely grown. The search for foods that embody this spirit of care takes time, as does our thoughtful preparation of them. It makes us happy to know that the menu we offer is inspired to nourish. The purest form of our inspiration is kneaded into our bread. The organic flour already smells of a fresh loaf when you open a sack. This flour is mixed with water and allowed to ferment, gathering the wild yeasts and finally baked to yield a moist, crispy-crusted bread.
 
We are confident that you will enjoy your Nell Thorn experience even more in knowing that a portion of the proceeds will go towards supporting the mission of the Lincoln Theatre.
 
Nell Thorn is located at 205 Washington St. in La Conner
FOR RESERVATIONS CALL: (360) 466-4261
Dinner: 5pm to 9pm Pub: 4pm to 9pm
 
We trust that you appreciate the importance of The Lincoln Theatre to Mount Vernon and all of Skagit County. The Lincoln Theatre Center Foundation, which is solely responsible for the operation of The Lincoln Theatre, is a non-profit organization relying heavily on memberships and the generous sponsorship of local businesses and individuals, both in cash and in kind, as well as ticket sales to fund daily operations. Local Merchants Love the Lincoln spotlights local restaurants and other retail establishments that have graciously consented to support The Lincoln Theatre financially by contributing a percentage of gross revenues for a specific date. We encourage you to patronize these local businesses at every opportunity, not only on the date of the promotion, but throughout the year. Your participation costs you nothing, but clearly benefits specific local businesses and, thereby, the local economy, in general. Those local businesses then share that benefit directly with The Lincoln Theatre. We intend this to be a regular feature of a much more comprehensive fundraising effort.