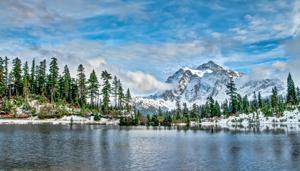 Meet the artist at a reception on Saturday, August 4th from 6:00 - 7:30pm.
Damian Vines grew up in the Pacific Northwest and came to love the natural surroundings of this beautiful region. His passion for photography, although fairly recent, has always been inside him. Damian's artistic expression came forth in many different ways throughout the years, sometimes in music, sometimes in drawing and sometimes though computer graphics. Damian strives to create images that capture the awe of a scene that is often seen with the naked eye but difficult to capture in a photograph.

 This awe is created as much "in camera" as it is out of camera in the post processing of the image. Damian creates stunning images that capture the awe inspiring beauty that surrounds us every day.
See more of Damian's work here or