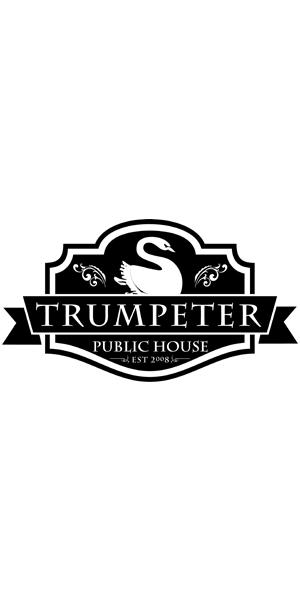 Trumpeter Public House Loves The Lincoln
September 10, 2012
10% of Sales Go To the Lincoln Theatre
 
Trumpeter Public House invites all members and friends of The Lincoln Theatre and, indeed, all of Skagit County and beyond, to join in supporting the Lincoln Theatre. Trumpeter Public House is a cozy, relaxed, warm and inviting setting designed for you to linger with family, friends or colleagues. The menu at The Trumpeter features an all inclusive gluten free menu along with local seasonal selections, made only from the freshest and highest quality ingredients, with something sure to please every member of your group. From its old world style, history filled cherry-wood bar, The Trumpeter offers a variety of local and global selection of beers, wines and exceptional liquors, providing an opportunity to experience their unique characteristics from different regions. A long time supporter of The Lincoln Theatre, The Trumpeter will donate 10% of all gross sales for Monday, September 10, to The Lincoln. Monday is Trumpeter Trivia Night, so gather a team of friends and stick around after dinner to compete for prizes. If competitive trivia is not your forte, shift to The Lincoln for the return engagement of Moonrise Kingdom - 'Warm, whimsical, and poignant, the immaculately framed and beautifully acted Moonrise Kingdom presents writer/director Wes Anderson at his idiosyncratic best.'
 
Trumpeter Public House is a family owned brick-and-mortar business employing local people, buying locally sourced goods and services, paying local taxes, and generally supporting the local community. The Trumpeter recognizes the importance of the Lincoln Theatre and is pleased to express its support in tangible terms.
 
The Lincoln Theatre has the bold mission of entertaining, informing and inspiring the diverse Skagit County community through cinema, live performance and educational programs. The Lincoln Theatre Center Foundation is a non-profit organization with a very small, highly dedicated staff, a large body of invaluable volunteers and an intensely loyal membership of 1,000 or so mostly Skagitonians committed to preserving the historic Lincoln Theatre. Located in downtown Mount Vernon, the Lincoln Theatre is a cultural cornerstone serving all of Skagit County. We greatly appreciate the support of local businesses and encourage you to support them, in turn.
 
 And now a few words from Paul and Karin Springer, owners of Trumpeter Public House: Trumpeter Public House passionately supports Skagit Valley. We are proud to feature local, organic and naturally-raised ingredients. In following food from farm to plate, we have learned that respect for the land and a conscientious connection between people and their environment is vital to our thriving agricultural community. We also are zealous stewards of our environment and have taken a proactive approach to minimizing our environmental impact. We arm all of our employees with the knowledge and tools necessary to compost, reduce energy and recycle.
 
Our knowledgeable staff is dedicated to providing exceptional service that contributes to a truly memorable experience. We are confident that you will enjoy your Trumpeter experience even more in knowing that a portion of the proceeds will go towards supporting the mission of the Lincoln Theatre. Please join us for lunch or dinner Monday, September 10. Stay for Trumpeter Trivia Night or shift to The Lincoln Theatre and enjoy Moonrise Kingdom. 
 
 Trumpeter Public House is located at 416 Myrtle Street in Mount Vernon
 
Hours of Operation:       
 
Monday - Thursday: 11:00 AM – 10:00 PM
Friday - Saturday: 11:00 AM – 12:00 Midnight
Sunday: Closed
 
For more information call (360) 588-4515
 
 
We trust that you appreciate the importance of The Lincoln Theatre to Mount Vernon and all of Skagit County. The Lincoln Theatre Center Foundation, which is solely responsible for the operation of The Lincoln Theatre, is a non-profit organization relying heavily on memberships and the generous sponsorship of local businesses and individuals, both in cash and in kind, as well as ticket sales to fund daily operations. Local Merchants Love the Lincoln spotlights local restaurants and other retail establishments that have graciously consented to support The Lincoln Theatre financially by contributing a percentage of gross revenues for a specific date. We encourage you to patronize these local businesses at every opportunity, not only on the date of the promotion, but throughout the year. Your participation costs you nothing, but clearly benefits specific local businesses and, thereby, the local economy, in general. Those local businesses then share that benefit directly with The Lincoln Theatre. If your business would like to participate in sponsorship of The Lincoln Theatre, or if you know of another community-minded, locally owned business, please contact us at your earliest convenience.