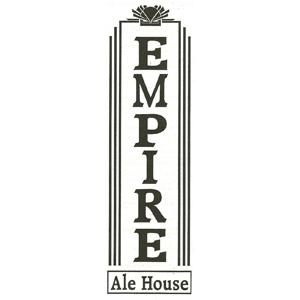 Wednesday, Oct 31 (All day)
Empire Ale House invites all members and friends of The Lincoln Theatre and, indeed, all of Skagit County and beyond, to join in supporting the Lincoln Theatre. Located in downtown Mount Vernon, Empire Alehouse offers a great selection of craft beers. The 17 rotating taps feature everything from Blondes to Porters, many of which are brewed locally. A wide selection of wines is available by the glass or bottle. The menu includes great appetizers, paninis, burgers, pasta and steaks, with daily specials on the board. The daily Happy Hour (3-6 PM) specials include beer and appetizers.
 
Empire Ale House will donate 10% of all gross sales for Wednesday, October 31, to The Lincoln. That's Halloween night and Witches! The Musical is playing at The Lincoln, so why not make it Dinner and some really spooky live theatre. Directed by Jane Skinner with book, music and lyrics by Conrad Askland, Witches! The Musical promises to be great fun.
 
Empire Ale House is a family owned brick-and-mortar business employing local people, buying locally sourced goods and services, paying local taxes, and generally supporting the local community. Empire Ale House recognizes the cultural and social significance of the Lincoln Theatre, as well as its importance to the local business community, and is pleased to pledge its financial support.
The historic Lincoln Theatre has the bold mission of entertaining, informing and inspiring the diverse Skagit County community through cinema, live performance and educational programs. The Lincoln Theatre Center Foundation is a non-profit organization with a very small, highly dedicated staff, a large body of invaluable volunteers and an intensely loyal membership of 1,000 or so mostly Skagitonians committed to preserving the historic Lincoln Theatre. Located in downtown Mount Vernon, the Lincoln Theatre is a cultural cornerstone serving all of Skagit County. We greatly appreciate the support of local businesses and encourage you to support them, in turn.
  
And now for a word from Bruce Springer: The Empire Alehouse is a great local Northwest pub. You will find the atmosphere welcoming, the service great, the food terrific and the selection of hand-crafted beers next to none. We are confident that you will enjoy your Empire Alehouse experience even more in knowing that a portion of the proceeds will go towards supporting the mission of the Lincoln Theatre. Please join us for a lunch or dinner Wednesday, October 31. We think you'll become a regular.
 
 Empire Ale House is located at 314 West Gates Street in downtown Mount Vernon.
Hours of Operation:       
Tuesday –Saturday: 11:30 AM - 10:00 PM
For more information call (360) 336-9944

The Lincoln Theatre is of great importance to Mount Vernon and all of Skagit County. The Lincoln Theatre Center Foundation, which is solely responsible for the operation of The Lincoln Theatre, is a non-profit organization relying heavily on memberships and the generous sponsorship of local businesses and individuals, both in cash and in kind, as well as ticket sales to fund daily operations. Local Merchants Love the Lincoln spotlights local restaurants and other retail establishments that have graciously consented to support The Lincoln Theatre financially by contributing a percentage of gross revenues for a specific timeframe. We encourage you to patronize these local businesses at every opportunity, not only on the date of the promotion, but throughout the year. Your participation costs you nothing, but clearly benefits specific local businesses and, thereby, the local economy, in general. Those local businesses then share that benefit directly with The Lincoln Theatre. If your business would like to participate in sponsorship of The Lincoln Theatre, please contact us at your earliest convenience.