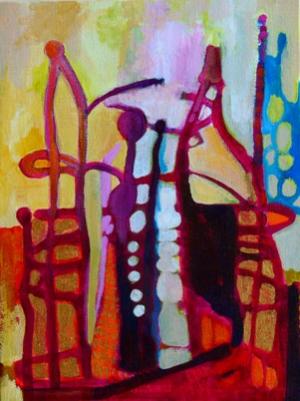 Artist Reception Saturday, October 5th 5:00 - 7:00pm
 
Deirdre Czoberek grew up in a home where art was just as important as food. Both parents were visual artists and on a constant quest for physical and spiritual beauty. Every surface in the house was subject to beautification and embellishment - cars and refrigerators included. They were a mighty influence indeed.
 
Try as she might to explore different paths in college, she felt drawn to study art and completed her B.F.A. in painting in 1992. In her work, she favors the continual exploration of color and design in non-representational paintings. 
Primarily an oil painter, she is just as likely to use watercolors or acrylic if they are at hand. Watercolor offers a spontaneous luminosity; acrylic is immediate and oils are slow and rich and take time to develop.
 
Along with raising a family and painting, Deirdre works as a teaching artist in local schools and community organizations. She teaches after school at the Burlington Parks and Recreation Center and recently worked with Madison Elementary fourth graders on a rain barrel for the Skagit River Salmon Festival. Last Spring, she joined other local artists in painting umbrellas for the Mount Vernon Arts Commission Summer Solstice Auction. I think it rained that day! Deirdre frequently donates her art work and time to community fund raising efforts and finds it a privilege to be asked to do so.