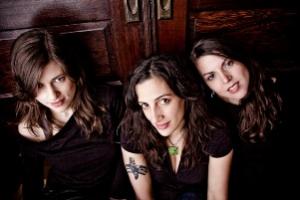 Saturday, April 12, 2014 - 7:30pm
Sunday, April 13, 2014 - 3:00pm
Presented by Tin Hut Concerts
 
The Wailin' Jennys – Sold Out - Thank You! A small number of tickets for each performance may become available on the day of the show. Please come to the box office two (2) hours prior to the perfomance to be placed on the waiting list for last-minute tickets.
 
Please allow time for travel and parking. Spring has sprung and tulips are up!
 
The Jennys are Ruth Moody, Nicky Mehta, and Heather Masse.  Each is a talented and award-winning singer-songwriter in her own right.  Together their three distinct and extraordinary voices combine perfectly in heart-stopping harmonies that "make new songs feel traditional and old songs sound brand new."  Sing Out! Magazine calls them "One of the most dynamic contemporary folk groups of the 21st Century."
 
The Jennys first played at the Lincoln to a sold-out house during the 2008 Skagit Valley Tulip Festival, when they wowed the audience with their arrangement of Tiptoe Through the Tulips, prepared especially for the Lincoln show.  They returned to the Lincoln and played two sold-out shows during the 2010 Tulip Festival.  They're now coming back to the Pacific Northwest for the first time since 2010, and will perform at the Lincoln during the 2014 Tulip Festival.
 
Both The Jennys as a group, and their alto Heather Masse solo, have been frequent musical guests on Garrison Keillor's public radio show A Prairie Home Companion.  They have performed at the illustrious Newport Folk Festival and appeared on the PBS television program Great Performances.
 
The group was founded in Winnipeg in 2002.  They have won Juno Awards (the Canadian Grammy) for two albums, and their recordings have been long-running mainstays on the Billboard charts.  They've played sold-out shows throughout North America, the UK, Europe, and Australia.
 
Although best known for their lush and achingly gorgeous harmonies, the Jennys are also accomplished instrumentalists who collectively play guitar, banjo, accordion, bodhran, harmonica, ukulele, percussion, and upright bass.  They frequently tour with Ruth's brother, instrumentalist Richard Moody, who accompanies them on fiddle, viola, and mandolin.
 
The Jennys' fourth full-length album, Bright Morning Stars, was released in 2011 and won a Juno Award for Roots & Traditional Album of the Year.  Their three most recent CDs, Bright Morning Stars, Live at the Mauch Chunk Opera House (2009) and Firecracker (2006) are all available at the Mount Vernon City Library.  Music samples from Bright Morning Stars are available at https://www.facebook.com/thewailinjennys/app_178091127385
 
On January 4 the Jennys were once again musical guests on Garrison Keillor's public radio program, A Prairie Home Companion.  You can listen to a web archive of the show at:  http://prairiehome.publicradio.org/programs/2014/01/04/
 
For more information on The Wailin' Jennys, visit http://www.thewailinjennys.com.
 
For a brief television interview with the Jennys, see http://www.youtube.com/watch?v=dr1jVawBeWY