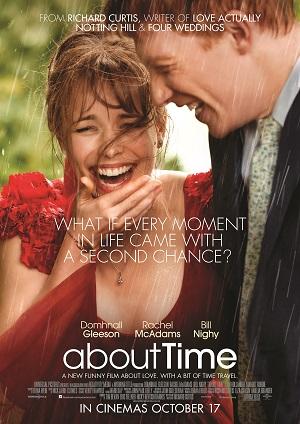 Saturday, Jan 11, 7:30 pm
At the age of 21, Tim Lake (Domhnall Gleeson) discovers he can travel in time... The night after another unsatisfactory New Year party, Tim's father (Bill Nighy) tells his son that the men in his family have always had the ability to travel through time. Tim can't change history, but he can change what happens and has happened in his own life-so he decides to make his world a better place...by getting a girlfriend. Sadly, that turns out not to be as easy as you might think. Moving from the Cornwall coast to London to train as a lawyer, Tim finally meets the beautiful but insecure Mary (Rachel McAdams). They fall in love, then an unfortunate time-travel incident means he's never met her at all. So they meet for the first time again-and again-but finally, after a lot of cunning time-traveling, he wins her heart.
Tim then uses his power to create the perfect romantic proposal, to save his wedding from the worst best-man speeches, to save his best friend from professional disaster and to get his pregnant wife to the hospital in time for the birth of their daughter, despite a nasty traffic jam outside Abbey Road. But as his unusual life progresses, Tim finds out that his unique gift can't save him from the sorrows and ups and downs that affect all families, everywhere. There are great limits to what time travel can achieve, and it can be dangerous
 
Director: Richard Curtis
 
Starring: Domhnall Gleeson, Rachel McAdams and Bill Nighy
 
What the Critics are saying:
 
Certified Fresh on Rotten Tomatoes:
 
"Beautifully filmed and unabashedly sincere, About Time finds director Richard Curtis at his most sentimental."
 
Austin Chronicle
Kimberley Jones
The movie moves episodically, leisurely, through roughly a decade, and that feels like a gift: to nestle in with these extraordinary, ordinary people and get to know them. 
 
NPR
Joel Arnold
About Time is ... about time: It asks us to reflect on how we all use that resource, how the hours and minutes that make up a day or a life align with our intentions and values. 
 
New Orleans Times-Picayune
Mike Scott
Maybe it's a touch twee, but Curtis' film is far too uplifting, too life-affirming and too good-natured to do anything but embrace. 
 
Empire
Mark Dinning
More than just a time-travel rom-com, this is a movie that asks you questions and doesn't sugar-coat as many of the answers as you'd expect. Smart and sweet, funny and genuinely moving. Should probably come with a 'there's something in my eye' warning. 
 
New York Post
Kyle Smith
For all its glutinous cuteness, damn if About Time doesn't sneak up and sock you in the tear ducts. I tried not to fall for it. I failed. 
 
Chicago Tribune
Michael Phillips
Enjoy the love in your life, and don't squander it: That's all Curtis is selling here, really. With Gleeson and McAdams at the forefront, About Time has a beguiling pair of rom-com miracle workers helping him close the sale.
 
Admission Prices*:
 
General: $10.00
Seniors, Students and Active Military: $9.00
Members: $8.00
Children 12 and under: $7.00
Bargain Matinee Prices (all shows before 6:00pm)
General: $8.00
Members: $6.00
Children 12 and under: $5.00
 
Your membership with the Lincoln Theatre saves you $2.00 per film ticket.
 
*All prices include a $1.50 Preservation Fee that goes directly into our capital account for preservation of the Lincoln Theatre and its programs. Film tickets are only available at the door beginning 45 minutes before the first screening of the day. This saves you, the ticket buyer the fees associated with purchasing online. Never fear – there are plenty of seats!
 
Monday film screenings are part of the Lincoln Theatre Member Mondays! Click here for details.
 
Film dates and times are subject to change and extended runs. Please check back here, or our phone message at 360.336.8955, day of show.